While the holiday season brings with it the expectation of exchanging gifts, the true spirit is about taking a moment for gratitude and appreciation. We hope your team is high on your gratitude list. After all, where would your business be without them?
Use this holiday season for intentional moments to show your employees how much you appreciate them. Consider these five employee appreciation ideas to make your employees feel special this holiday season.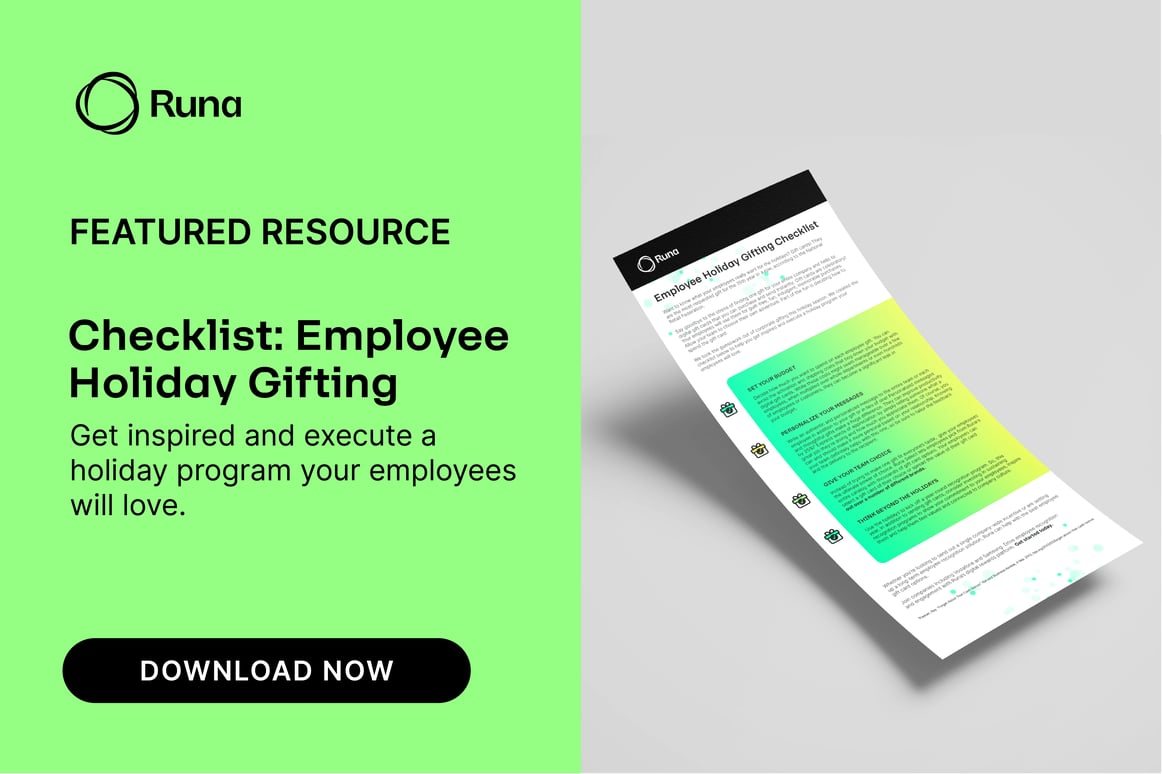 Words of Appreciation
Share words of appreciation with your employees this holiday season. Yes, we're kicking off the list with one of Dr. Gary Chapman's Five Love Languages. The concept is typically reserved for intimate personal relationships, but employers can apply it to communicate appreciation at work. We spend eight hours (33% of our day) at work, so we've built some pretty serious relationships. Communicating appreciation helps develop stronger relationships with our managers, colleagues and employees.
Express words of appreciation by simply telling someone what a great job they're doing and how much you appreciate them. Of course, you can and should make it more personal based on your relationship. Knowing your team definitely helps with this one, so be sure to tailor the feedback and the delivery to the recipient. Some folks would love praise at a team meeting while others prefer a private moment.
A handwritten note of genuine thanks goes a long way towards deeper, more-authentic connection.
Give Out Superlatives
Instead of giving out performance-based awards that may leave some team members empty handed, celebrate your team for who they are outside of the day to day. Take it back to high school with superlatives. This doesn't have to be cringey, like The Office's Dundie Awards. Unless that's your company culture–then do you, Michael Scott.
You can hand out a "Fashionista" award to the most-stylish team member or "Green Thumb" award to someone who keeps plants alive in the office. Couple the award with sincere gratitude about how their fashions or plants boost team morale. Superlatives are a great way to recognize your team, because they're outside of the box, fun, engaging and celebrate people's contributions in ways that might otherwise go unnoticed.
Indulge Their Taste Buds
Remix the old saying "the way to [your team's] heart is through [their] stomach" and feed them as a token of employee appreciation. A holiday gift can be coffee and donuts, a catered lunch, or drinks at an after-hours event. Of course, everything depends on your company culture and team diet. You can swap out donuts for fruit if you have a health-conscious team, or replace drinks with appetizers, if booze is a no-go.
Write a LinkedIn Recommendation
Treat your employees like your favorite taco shop — rave about them online with a LinkedIn recommendation. Not only is this a genuine expression of employee appreciation, it's an investment in their career. A thoughtful and well-written recommendation provides current (and future) colleagues, bosses, and clients a glimpse into their background. While it may feel like you're playing up their strengths to potential competing employers, studies have shown that happy employees are more engaged, and recognition makes high-performing employees feel more connected and loyal to the company. Consider adding this one to your holiday gift list, because it's really a gift that keeps on giving.
Give Them Choice
It's hard to please everybody, and organizations often miss the mark when they try. Your employees are unique, and they likely have unique preferences for how they'd like to be recognized and rewarded. That's a major reason why we believe the best corporate holiday gift is the gift of choice delivered via gift cards. The science backs us up. Gift cards were the runaway winner in our recent survey about employee rewards, and they've been the most-requested gift for the last 15 years, according to the National Retail Federation.
Gift cards unlock possibilities for your employees. Allowing them to choose the perfect merchant and select their own gift is part of the fun. So whether they choose a Starbucks gift card for a few Pumpkin Spice Lattes or a Home Depot gift card for a gallon of paint – trust that your employees will feel appreciated this season with a thoughtful holiday gift card.
Schedule a demo to see how our powerful platform can help your organization give your employees the gift of choice with gift cards.