What makes the ideal employee recognition gift... and why it's so important to get right.
Where would a business be without its dedicated and hardworking employees? It's true that employees are the backbone of business — without their efforts, it's hard to imagine how any business could survive, let alone thrive. Most employers would like to show their team members how much they are appreciated and to do so in a memorable and meaningful way.
What better way to show appreciation than with a thoughtful employee gift, right? Yet, when it comes to employee recognition gifts, many employers are stuck on how and where to start.
Here, we'll take a look at why employee recognition gifts are so important, what constitutes an ideal gift, and why so many businesses are turning to digital gift cards for their employee reward and gift solutions by choosing the right gift card management system.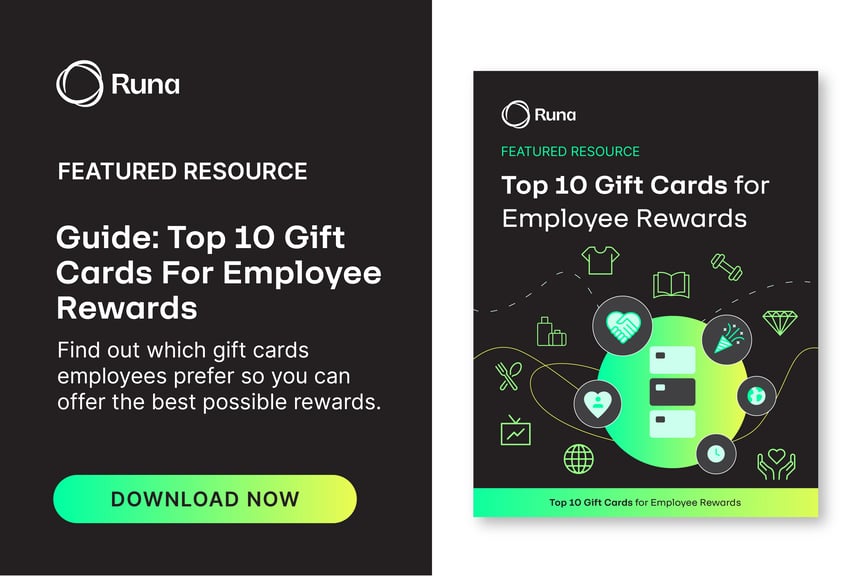 Why are employee recognition gifts important?
These days, more than ever, employees want to feel valued and recognized for their contributions at work. Job satisfaction is high on the list of life goals for just about all of us — if we don't feel satisfied in our roles, we'll likely start looking for alternate employment.
Let's face it, when it comes to showing appreciation, words of encouragement only go so far. A thoughtful and well-timed employee gift is likely to be much more effective at hitting the mark when it comes to employee recognition.
Whether it's a heartfelt present to celebrate a career milestone, a token for the holiday season, or a special gift to acknowledge outstanding performance, there's little doubt that bestowing a valued employee with a meaningful gift can go a long way to helping them feel valued and appreciated at work.
Why employee incentives make good business sense
It's not only employees who benefit from employee recognition gifts. By helping to increase employee satisfaction in the workplace, employee gifts can work as powerful incentives for your team, helping to drive the positive behavior needed to help your business achieve important business goals.
In the modern age, standard compensation and benefits packages are usually not enough to attract and retain good employees. An increasing number of smart employers are turning to employee incentive and reward programs to help drive this positive behavior.
Here's why incentivizing team members with employee recognition gifts makes good business sense:
Higher engagement levels — Knowing that their work is valued and appreciated will ultimately increase your employees' engagement levels. It's no secret that engaged employees are more productive and more likely to put in the effort to help drive your business forward. What better way to set your business apart from the competition?
Financial gains — Along with the financial gains that naturally come as a result of increased productivity levels, businesses with effective employee incentive programs often enjoy reduced staff turnover levels, which can further reduce costs to the business. Satisfied and engaged employees are far more likely to stay and be invested in the financial success of the business they're working for.
Attracts fresh talent — Employees nowadays rate incentives very highly — in fact, many place employee incentives as a top consideration when assessing new job offers. So, having a robust employee incentive and reward program in place not only keeps current employees happy but can also go a long way toward attracting fresh talent to your business.
Increased morale — A thoughtful employee gift can provide the ultimate morale boost, especially during uncertain or difficult periods. When team members know their work is recognized and supported, they are more inclined to work together to achieve positive results.
What makes an ideal employee gift?
When it comes to employee rewards, gone are the days of the generic, one-size-fits-all approach. To be truly appreciated and effective, an employee recognition gift should be thoughtful, meaningful, useful, as well as display a level of professionalism.
Digital gift cards provide the ultimate employee gift solution in more ways than one. An increasing number of employers are turning to digital gift cards for their employee recognition programs, with good reason. Here's what makes gift cards such a popular choice of gift among employees:
Power of choice — Digital gift cards allow your recipients to choose the ideal gift for them. In fact, with Runa your recipients can select from over 1,300 top-branded gift cards. Who wouldn't love this level of choice?
Highly convenient — Employees appreciate the gift of convenience in today's fast-paced world. Digital gift cards can be redeemed with a few simple clicks, making them an extremely handy and versatile gift option.
Secure and safe — Unlike cash and other valuable gift options, digital gift cards can't be misplaced or stolen. Further, they don't come with the fraud risks associated with shareable discount codes and links.
Top gift cards for employee recognition
With Runa, your employees will be truly spoiled for choice when it comes to selecting from our huge range of digital gift cards — our market-leading catalog is sure to delight even the fussiest of recipients. Here are some of the top gift cards for employee recognition that you can easily send in bulk with the Runa platform:
Amazon gift cards — As the world's largest online retailer, there truly is something for everyone at Amazon. Whether your recipient is a fan of fashion, books, electronics, games, jewelry, shoes, or something else entirely, they're sure to find exactly what they're after here.
Starbucks gift cards — Who among us doesn't appreciate a regular caffeine boost? Whether your recipient is a coffee aficionado or enjoys the occasional special beverage, a Starbucks gift card will hit the spot.
Prepaid gift cards — A prepaid gift card may be seen as the ultimate employee reward! With a prepaid gift card or Visa prepaid card at their fingertips, your recipients are able to choose what they want, from where they want, and wherever the cards are accepted.
Large retailer gift cards — Need a play-it-safe employee gift option? You simply can't go wrong with a gift card from one of the large retailers — think Walmart, Target, Home Depot, and more. No matter your recipient's unique taste and style, they are sure to find their ideal gift from one of these majors.
Restaurant gift cards — Restaurant and food delivery gift cards are the perfect choice of gift for just about everyone. After all, who doesn't love the chance to dine out or have our favorite food and meals delivered directly to us?
How do businesses benefit from sending employee gift cards?
Thanks to leading digital gift card platforms such as Runa, it's now easier than ever for businesses to incorporate gift cards into their employee recognition programs. Those who do enjoy many benefits, including:
Fast and easy ordering process — With digital gift card platforms, manually and laboriously sourcing employee gifts is a thing of the past. Ordering gift cards through Runa is both quick and easy. After placing funds in your account, it's a simple matter of choosing your desired quantity and value and placing an order for your cards.
No-fuss delivery — After your order is confirmed, the gift card will be sent to your employee's inbox within seconds. Whether you're sending one, or one thousand gift cards, you enjoy the same fast, no-fuss process.
Recovery of unused balances — Unused gift card balances can be easily recovered through our user-friendly platform. This means fewer funds wasted and more to spend on your business.
Easy tracking and reporting — With Runa, tracking and reporting gift cards are easy. As well as seeing how your gift cards are being used, you can gain insights into your employee's preferred gift card brands.
Concerned about tax? Our platform also includes a range of features to help you with any necessary tax reporting.
Send employee gifts at scale with a reliable gift card API
So, how do we make the process of ordering and sending digital gift cards so easy? It all comes down to a single, reliable API. With our API, your business can access a huge range of leading digital and prepaid gift cards, paving the way for a successful employee recognition program.
The best part? All gift card data is managed by the API, leaving you with precious time to continue driving your business forward. With Runa's intuitive API, your business will enjoy the benefits of:
Simple integration process

Feature-rich portal

Ultra-fast gift card delivery

Customizable digital gift card experiences
Our powerful API is trusted by top service providers worldwide for the management of their employee recognition and corporate gifting programs. Will your business be next?
Employee recognition gifts made simple with Runa
Are you ready to wow your team with recognition gifts that you know they'll love? At Runa, we make employee gift-giving easy. No matter the size of your teams or business, you're sure to find the ideal solution for your employee rewards with our convenient plug-and-play solution.
From Amazon gift cards to Starbucks gift cards to prepaid cards and more, your employees are guaranteed to find the ideal gift with Runa.
Keen to see for yourself how Runa can revolutionize your employee recognition program? Arrange a free demo with one of our experts today!