Runa Send
Payouts To Anyone, Anywhere
Unlock international markets and earn revenue from payouts, rewards and incentives.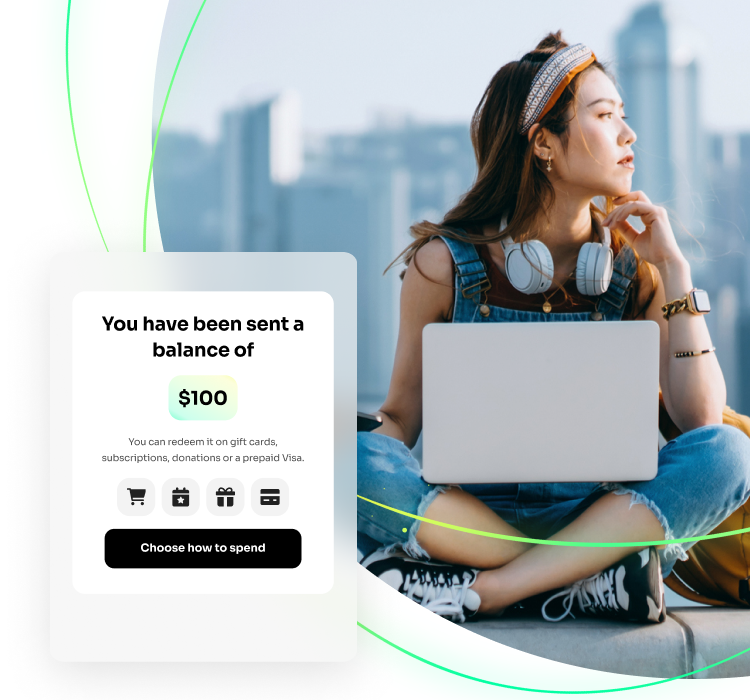 The Runa Network
Instant payouts in bulk using any payout type.
18
currencies to
choose from
How It Works
Automate payouts with Runa's API or send from the Runa Portal.
Integrate the
Runa API
One API for global reach
1 hour – 1 day onboarding time
Succinct documentation
Use the Runa Portal,
no code required
Instant access
No lengthy setup
Access to the full network and features
Why Runa?
Global Reach
30+ countries, 18 currencies and 16 languages.
Recipient Choice
Let recipients choose their preferred payout.
Mass Send
Send unlimited payouts to multiple recipients instantly.
Forex
Fund in one currency, disburse in another.
Fee-Free
No set-up costs. Only pay for what you use.
Advanced Security
Bank-level security, fraud protection and regulatory compliance.
Reporting
Real-time, data-rich reporting so you can optimize programs.
White Label
Integrate seamlessly with your brand and user experience.
Leading Businesses Use The Runa Send API To Power Payouts, Incentives and Rewards
Vodafone sees a 95% improvement in campaign launch and management, saving time and resources
"Runa has unlocked a world of possibilities for Vodafone. It is exactly what we look for in a technology."
Adam Clisby
Affiliate Marketing Specialist, Vodafone
Sodexo saw a 64% increase in load value og gift card purchase
"The API's setup was made easy through clear and concise documentation – a rarity in this space. The team was astonished at how quick it was to get everything set up."
James Bancroft
Digital Gift Card Platform Development Manager, Sodexo
VoucherCodes saved 1,000 hours of manual work per year and saw customer satisfaction rise to 90%
"Runa was exactly what we were looking for. It made our lives much easier and enabled us to generate significant new revenue."
Angus Drummond
Growth Partnerships Director, VoucherCodes
Ensure Payouts Land Quickly
And Securely
Tailor Your Payouts
Customize your payouts, embed directly into your UX, determine discounts and turn payouts into a revenue stream.
Rely On Runa
Industry-leading uptime ensures your customers have the best possible experience.
Access Support
Global support across time zones, so help is always available for you and your users.