If you're looking for last-minute gifts for your employees this holiday season, then tl;dr: buy gift cards! Trust us; gift cards are the most-requested holiday gift for the 16th year in a row.
Waiting until the last minute can have its perks. Most retailers are rolling out their very best Black Friday deals, incentives and discounts ahead of the official shopping day. Help your employees take advantage of the biggest shopping holiday of the year by getting even more out of their holiday gift cards.
All you have to do is grab a gift card and get it to your employees by Black Friday.
Wondering what gift cards to add to cart? Here's a quick guide on gift cards employees will love: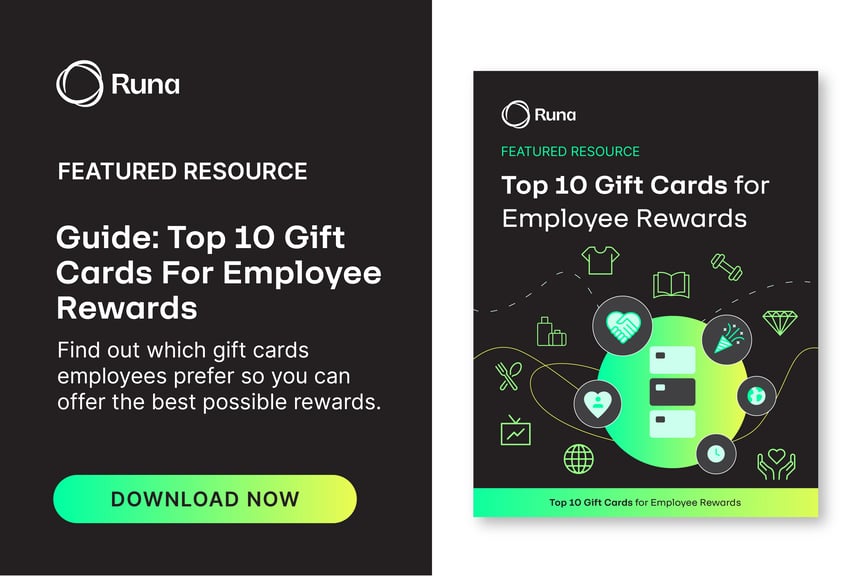 Everything Store
Grab an Amazon Gift Card or Target Gift Card
General merchandise stores sell just about everything your employees need, from furniture to beauty products and everything in between. Most employees can find something they want with an Amazon or Target gift card.
These superstores make even better employee gifts because they both drop major deals up to and through Black Friday and Cyber Monday. Your employees can score deals on the latest tech, kitchenwares and much more.
Conveniences or Splurges
Send an Uber Gift Card or Starbucks Gift Card
Give your employees the day off from driving or a safe ride home after spiked eggnogs with an Uber gift card. Or give the gift of caffeine, so they can power through the holiday prep and Black Friday shopping. Starbuck gift cards can be enjoyed instantly or folks can stock up on all of their favorite holiday coffee blends to last all season long.
Fashion or Electronics
Send an ASOS, GAP, or Best Buy Gift Card
This is what Black Friday is traditionally all about – hunting down the best deals on clothing and electronics. It's typically where consumers save the most! So hook your team up with a gift card to their favorite fashion brand or Best Buy to snag their favorite electronics.
Whatever you decide to send. Let Runa help get your employee gifts to your team instantly. With Runa, the plug-and-play solution for employee gift cards, you'll be able to:
Let employees choose for themselves from our entire catalog of more than 1,500 gift card brands, or from a curated list of your pre-approved choices for the best Black Friday deals
Track redemptions on a company-wide scale to see how your rewards are performing
And make it easy on HR and People teams to give the gift of choice instead of trying to please everyone.
It's already the last minute! Get started today.