What are employee rewards and why are they important?
Any company that has undergone tough periods whether of turnover, flagging employee engagement, or stalling employee motivation and productivity knows that it's important to consider every aspect of your compensation package in order to see the whole picture of employee morale.
Companies looking for a boost often don't start with salary increases or insurance audits. Where do they begin? By looking at their employee report programs and how those impact the satisfaction of their staff.
Today we'll discuss why employee rewards are so critical to the long-term health of your organization, and how they bring a personalized and human touch-even at scale.
By the end of this article, you'll know:
Why employee rewards are so important to your business

The best types of rewards to recognize your employees

Ten steps to creating a successful employee reward system

Ways to improve your employee rewards programs

How and why software is important for a scalable rewards program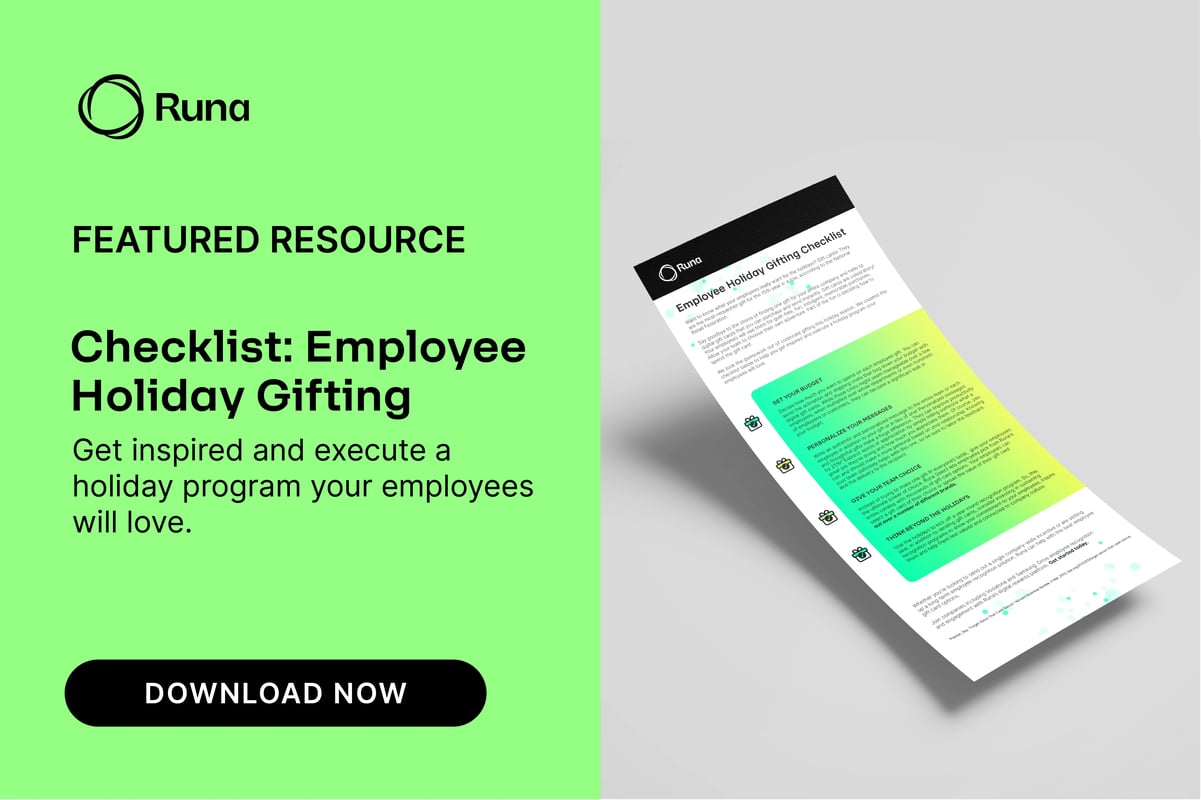 Why are employee rewards and recognition important?
Employee rewards delivered in a well-constructed employee recognition program are a critical part of maintaining a highly effective and engaged workforce. Employees don't only use salary as a gauge for appreciation and job satisfaction. Often, it's the little touches that happen throughout the year which differentiate good companies from great ones and a great employee recognition idea can make the difference.
For this reason, maintaining a generous employee rewards program or incentive program is one of the best ways to foster connection and increase employee morale within your organization. Creating connections with each employee ensures that they feel appreciated and valued as individuals contributing to the success of the whole.
Companies that recognize and celebrate the achievements and milestones of their staff often report benefits such as:
Lower employee turnover rates

Higher employee satisfaction

Better team cooperation

Higher employee performance ratings

Longer average employment tenure

Better brand reputation

More successful retention and recruitment
There are many ways to drive these outcomes within your organization. The work of developing employee reward programs is never done, but the same is also true for the benefits that come from doing so.
Types of employee rewards
There are many opportunities to recognize your best and brightest contributors throughout the year. Maintaining several employee loyalty programs ensures that everyone has a chance to shine, and can benefit from the positive experience of employee recognition.
Years of service: Celebrate the time an employee has invested in the company by recognizing their years of service with a thoughtful and unique gift.
Employee referral: Many companies incentivize their employees to recommend internal job roles to peer group members, colleagues, and family members which can be valuable for company culture and for tapping into an already strong network. As compensation for pre-vetting a candidate through personal connections, companies pay out an employee referral either in the form of a gift or cash compensation.
Performance: Many job roles are compensated with employee incentives based on performance. This may be a formal compensation structure or an informal employee recognition program such as a spot bonus or a "spiff." Rewarding employees informally as well as through formal structures is a great way to increase employee productivity and satisfaction.
Personal milestone: Some employee rewards programs recognize personal events in their employees' lives that deserve a little public recognition and celebration. Personal milestones include academic advancement, buying a new home, welcoming new family members into the world, or even adding a furry friend to the family. Touch points that reward employees for their individual life markers such as these personal experiences are highly effective at fostering strong connections and company culture.
Professional advancement: Achieving professional milestones or advancing in one's career often comes with some form of formal employee recognition, especially in cases where the employee is furthering their knowledge base in order to advance their work performance. At the completion of professional certifications or the attainment of professional degrees, many companies choose to honor the occasion with a gift.
Team-based: In addition to individual recognition and rewards, team awards are a popular way to recognize the efforts of a specific team or department while fostering good company culture. It can be particularly motivating to earn a reward or social recognition as part of a highly effective group.
Annual employee recognition: At the end of the day, every single employee contributes to the success of a company. Many companies choose to recognize the individual efforts that contribute to a whole at the close of a year or fiscal quarter. Sometimes this is conducted with a company-wide employee appreciation day,
10 steps to implementing reward programs in your organization
Building great employee recognition programs is all about having a system and objectives in place before you begin onboarding employees to the new process. Consider the following steps when building your employee recognition program:
Decide on goals: An effective employee reward program relies on identifying what outcomes you would like to achieve. Craft your program in such a way that encourages desired behaviors.

Identify champions: Every program needs a champion, so identifying stakeholders to support and educate on new employee programs is an important part of your program's success.

Set parameters: Reward programs are most effective when everybody knows the rules of the program and the associated rewards for success. Outline the ways employees can achieve desired objectives and be clear about the benefits of the rewards system.

Choose reward types: Identify rewards your employees will find most appealing. This could be a monetary reward, digital rewards and gift cards to redeem online, or other meaningful and valuable means of recognition. If you are unsure what rewards employees find highly desirable, an employee engagement survey with questions about new programs and potential rewards may shed some light on the items and/or employee experience that will delight your recipients.

Identify a point person: Good organization is another key component of a successful employee reward program. Designate a program administrator to answer questions, track rewards activities, and report on the success of individual programs.

Build administrative framework: How you deliver rewards is just as important as why you deliver them. Build a strong framework for administering your employee reward program, and consider the use of technology and automation in making this process easier.

Establish success KPIs: You only know if you have a successful rewards program if you can track the metrics associated with success. Establish upfront what KPIs you will track to know if your program is having the desired effect.

Evaluate and tune: Launch a preliminary version of your program. Depending on the size of your organization you may launch to a select number of people, a specific site location, or select departments. Use early data from this small sample in order to understand how your rewards program operates in the real world and if any changes are required for its ongoing success.

Integrate employee feedback: A good rewards program takes guidance from the most important people in the organization-the program beneficiaries. Solicit feedback from your pilot program members and make any necessary adjustments to the recognition platform based on their observations.

Implement continuous improvement: Good programs are always improving. Conduct regular audits of your programs to identify areas for improvement. It helps to look not just at your KPIs, but at the overall adoption and completion rates for the program.
Offer a choice of meaningful rewards to accelerate your employee engagement program
Gifting is not one-size-fits-all. Employee appreciation is at its best when it's highly personalized, and reflects the best of company values. Meaningful doesn't have to mean hard work though! Using a gifting platform can take the guesswork and stress out of the process by providing a simple recognition tool and excellent recognition ideas that benefit the most employees.
Curation is a great way to ensure your employees will enjoy the rewards they earn. With an employee rewards software platform, you can set up flexible programs that put employees in control of the benefits, allowing them to select from a wide variety of gift cards from all over the world.
Here are three easy ways to ensure that you are offering rewards your entire team will love:
Leverage the data you already have: Digging into your employee database can surface plenty of information to successfully tailor your programs. For instance, using demographic information can help you decide which retailers should be included in your curated gift card catalog.
Another example is using your desired program outcome to craft successful campaigns. Do you need to encourage candidate referrals from employees? Offer a general incentive such as a visa gift card or a prepaid debit card in return for a successful job placement.
Model successful programs: Your network can be an important resource for creating quality programs. Reach out to find out what programs are working for others, how they've implemented rewards, and what metrics are useful for measuring success in your programs. LinkedIn is an excellent way to connect with colleagues and get ideas.
Ask your recipients: The best programs are built with your employees in mind, so take the time to understand what they would most like to get out of their programs. You can use employee surveys (even an informal method like a Slack poll) to get a better understanding of how they'd like to receive rewards, what type they most enjoy, and how much selection they'd like to see in programs. With their feedback, you can design employee rewards that are tailored to your organization and its needs.
10 reasons gift cards are perfect for employee rewards
Convenient: Using gift cards for employee rewards is convenient both for you and your recipient. Gift cards are easy to deliver and track, with no need to package or ship physical items. It greatly reduces the overhead in your programs and makes delivering incentives fast and easy.
Global: no matter where your recipients live, there are sure to be plentiful options for delivering rewards they will enjoy. When partnering with the right gift card platform, the options are virtually limitless, offering many ways to engage your employees across any continent and for any purpose. The best gift card platforms will offer partnerships with thousands of merchants and retailers, so you'll always have plenty of ways to express your gratitude and deliver something enjoyable to every person on your list.
Flexible: gift cards offer a lot of flexibility to your programs. You can tailor both the parameters and delivery of cards right within the platform, and offer a wide selection of rewards that will appeal to the majority of your employees. Gift card platforms also allow you to approach giving with a credit-based program that allows recipients to choose the retailers they would like to receive rewards from. This level of flexibility means that you can tailor a wide variety of programs to your individual needs. Using a platform lets you administer employee rewards and incentives, referral bonuses, recruitment programs, and even sales and marketing programs with ease.
Enjoyable: Everyone enjoys being recognized for their contributions. Employees find recognition even more impactful when it is paired with a tangible reward. Gift cards are highly desirable and help demonstrate to your recipients that their time and effort is valuable. Giving tangible rewards can increase engagement, retention, and day-to-day job satisfaction.
Personalized: When you administer programs for a wide variety of employees, finding a way to surprise and delight everyone can be a challenge. Gift cards bridge the gap between different interests, ages, and life stages. Virtually everyone can find something they like when offered a curated catalog of selections, or given credit to choose the rewards that work best for them. Beyond types of gift cards and experience, a rewards platform makes it easy to personalize the delivery of rewards across hundreds or even thousands of recipients. It's an easy way to make everyone feel like a gift was meant specifically for them - even at scale.
Scalable: As above, scalability is one of the big challenges of administering employee rewards and incentives. It's important to keep interactions personal even when delivering gifts to a large number of employees. The personalization and curation features of a gift card platform make it far more scalable than programs that involve physical, direct-delivery gifts like swag or gift boxes. No matter how many programs you run or how many recipients you need to reach, a gift card program makes it easy to provide a great experience across the board.
Cost-efficient: because gift cards require no physical shipping or storage, they provide excellent ROI with almost no overhead costs attached. This cost efficiency is further enhanced when using a gift card platform to send employee rewards in bulk. Many retailers offer discounts of up to 25% off face value, meaning your budget can go much further and do so with maximum efficiency.
Some gift card platforms even offer the option to recoup unused gift card balances. This balance recapture feature allows you to make use of every penny in your program budget, and recover up to 30% of funds that may go unused in every gift card. Even a small recaptured balance, when multiplied over thousands of transactions, can have a profound impact on the overall budget efficiency of your employer rewards programs.
Which employee rewards software is the right one for you?
Software can greatly improve the process of administering your employee rewards program. It takes the busy work out of getting rewards into the hands of employees. It can also help you track and improve programs automatically.
The best employee rewards software platforms all share these core benefits:
Program flexibility: Robust platforms offer many ways to develop and administer employee reward programs. With the right platform, every department can use gifting to improve its metrics and increase engagement. Human resources, sales, marketing, and business development professionals will each find uses for gifting software.
Easy to use UI: Flexibility doesn't have to mean more complexity. With the best employee rewards platform, anyone from marketing interns to human resource management can build and launch a gift card gifting program without needing coding experience or spending hours learning the system.
Plentiful reward options: A world of choice is the ultimate form of flexibility. Be sure to choose a reward gateway that has thousands of options for employees of every interest and in every location. Specifically, look for a provider that offers a large selection of international gift cards.
Robust reporting features: One of the hidden values of using a gift card platform for your employee rewards is the ability to gather and visualize data about your programs in order to make better data-driven decisions in the future.
Great customer service: While great gift card platforms typically don't require hard work to set up and administer, it's always nice to have a helping hand on the other end of the line. Be sure your platform features excellent customer service support to answer questions and help with setup.
Why choose Runa to administer employee rewards?
Having the right partner makes a big difference in the ease and success of your employee reward programs. Runa is designed with this mission in mind. The platform and support teams focus on simplicity and deliverability, so you can quickly implement successful programs and make positive impacts on company objectives.
Runa clients rate us highly on:
Easy to set up: The Runa platform is made for quick start-up and instant sending capabilities. You can send simple gift card campaigns with just a few pieces of information and a payment method.
Detailed reporting: Data is the central pillar of a great employee rewards program. The Runa platform enables advanced analysis and reporting, so you can track the metrics that matter most, and visualize the data and trends that drive program improvements.
Flexible and scalable: As your employee rewards program evolves, you can take advantage of more advanced features and reporting through a feature plan. The platform is meant to meet you where you are, and scale as your organization grows and programs evolve.
First-class customer support: Customer success depends on the ability to start and improve your programs. Runa offers extensive customer support at all stages of implementation, so you will have the tools and insight needed to create your first programs, scale up your existing giving, and integrate the platform with other vital systems.
If you're excited about taking your employee retention and rewards programs to the next level, check out the great work companies are doing with Runa and schedule a demo to see how our powerful platform can help your organization.