Building an employee rewards program
When building a curated employee rewards experience, you want to offer cards that will appeal to all your recipients. For a little inspiration here are the top ten most popular gift cards for rewards in the United States and the United Kingdom. These employee rewards ideas are perfect for:
Employee incentives

Reward and recognition programs

Employee retention

Team member of the month awards

Peer recognition rewards
Any card on the list will be sure to delight your employees and reward their hard work and dedication. Use these recognition ideas the next time you want to recognize a team member for their great work.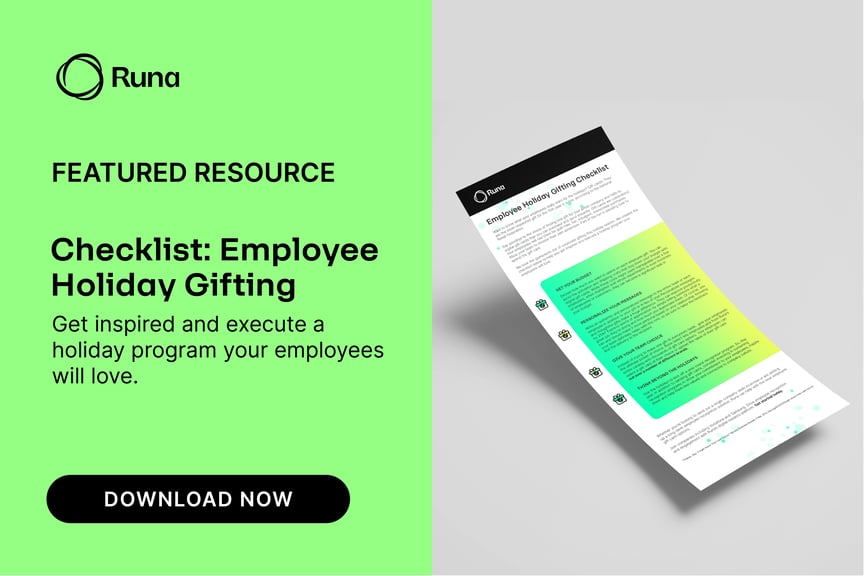 Top 10 gift cards for employee rewards - US
These gift cards are among the most popular in the United States for employee engagement and reward programs. Try using them for your next recognition program.
Amazon
The most popular gift card in the United States earns its top billing based on price and convenience. Amazon makes it easy to shop for millions of items worldwide, for any category or need. This makes it a popular gift card choice to reward their hard work when you just don't know what to get for your recipient.
Starbucks
With nearly 9,000 store locations nationwide, the Starbucks gift card is a popular option for most recipients. The card can be used for drinks and treats at and cafe location which is especially important if there is a company culture of remote working. The stores also offer coffee accessories such as mugs, brewing equipment, plus take-home ground or whole bean coffee. No matter how your recipient likes to enjoy their favorite beverage, they can find what they need in-store or online.
Walmart
Another popular gift card for almost any recipient, Walmart offers everything from home goods to clothing, food, electronics, toys, and games. The retail chain boasts more than 4,700 locations. Many locations also offer extra hair care, optical services, and equipment rentals. This makes the Walmark gift card a popular choice for helping recipients get the things they want and need and makes an excellent gift for good work.
Victoria's Secret
If you're looking for a romantic gift for a special occasion, Victoria's Secret is a popular gift card choice. The retailer offers a variety of apparel and accessories, perfume, and clothing items. The gift card is good for purchases at any of its nearly 900 store locations in the US.
Target
The "Target Run" has become synonymous with American suburban life, making the card a popular option for recipients who could use home goods, decor, clothing, groceries, or baby & kids items. Target has a large demographic following in the mom crowd thanks to its extensive selection of items to care for home and family making it a great choice for boosting employee morale for particular members of the team. The store also offers 2-hour pickup service at nearly 2,000 locations and standard 2-day shipping on the website.
iTunes
Apple products are perennial favorites for gifts, and the iTunes gift card shares in that popularity. The card allows you to purchase items on iTunes and Apple app store. These online retail outlets give users access to games, music, movies, books, audiobooks, podcasts, and Apple TV options. The iTunes card keeps recipients entertained and informed no matter what their interests. This makes it a great choice to recognize employees.
Best Buy
People love to receive gift cards from Best Buy for electronics and appliances. The retailer offers competitive prices on various computers, personal electronics, and home appliances. The Magnolia Home Theater locations within Best Buy offer access to high-end consumer sound and entertainment equipment. When you need help with one of your devices, the Geek Squad can offer support and education in-store or at home. The chain offers nearly 1,200 locations for US shoppers and is a perfect idea for a deserving employee.
Chipotle
For those looking to offer a versatile meal option for recipients, Chipotle is a popular option. The Tex-Mex chain offers fresh ingredients and a high level of customization while maintaining fast customer service. Chipotle has established a strong fan following and uses strong systems to offer a reliable experience and its 2,900 stores. It makes a great incentive for a job well done, or a nice menu option for hosting a group employee experience.
Fandango
Going to the movies is an experience almost anyone can appreciate, making the fandango card popular for giving an experience gift and being part of your employee recognition programs. The company allows its gift card users to find movie tickets and snacks at over 75,000 retail locations in the United States. The Fandango card is also good for renting home movies on the Vudu streaming platform.
Sephora
The most popular make-up and skincare company in the United States also makes for one of the most popular gift card options and an excellent employee reward idea. Shoppers to one of Sephora's over 2,700 locations worldwide can get skin care advice, make-up advice, fragrance, nail polish, and hair care products. Its extensive selection and knowledgeable staff make it a favorite for personal care brands.
Top 10 employee reward gift cards - UK
Here are some excellent options for enhancing employee engagement for your UK and European employees with a top gift card:
Amazon
Amazon's popularity in the United States is rivaled only by its popularity in the UK. The online retailer offers similar competitive pricing and delivery speed for UK shoppers. In addition, Amazon offers many home delivery services such as flowers and fresh treats and will be a warmly welcomed part of formal recognition for employee achievement.
Tesco
Tesco is one of the most popular grocery store chains in the United Kingdom. This makes it a popular option in any recognition platform for giving a functional and practical gift card to your recipients. Tesco offers standard grocery options, as well as extended services like banking, a big box like club subscription, school uniforms, and other value-added services.
Sainsbury's
Another popular option for groceries and value-added services, Sainsbury's makes a good gift card option for offering your recipients a world of choice and boosting employee motivation. Sainsbury's offers prepared foods and catering services, clothing, banking services, and even home energy services at its 1,400+ locations.
John Lewis
As one of the most popular department stores in the United Kingdom, recipients of a John Lewis gift card will have no problem finding items for their homes and family. John Lewis offers a selection of furniture, electronics, home decor, sporting goods, and fashions for the family at its 52 stores across the United Kingdom making it a fantastic option for public recognition of great work.
Asda
One more popular all-around gift card option is Asda. With over 600 locations in the United Kingdom, shoppers can find what they need and purchase it with the Asda card. The retailer offers a wide variety of fresh and prepared foods and value-added services like travel and insurance, financial planning services, pet and automobile insurance, and home and fashion selections.
M&S
Marks & Spencer is one of the most popular department stores offering clothing for the entire family, home decor, and services such as food hampers and mail-order gifts. The retailer is one of the most popular in the UK, featuring a wide online selection and over 700 in-store locations. This offers many options for rewarding hard work in your UK and European employees.
Itunes
The United Kingdom loves Apple products as much as their United States counterparts. With the UK version of the App Store, shoppers can get their hands on the same assortment of music, movies, books, and other entertainment, with many of the UK's most popular options on-demand or streaming.
Morrison
Like many other grocery stores in the United Kingdom, Morrison's offers shoppers a variety of fresh and prepared foods, gifts, a private clothing brand, and expanded delivery options to make shopping easy. Morrison's focuses on high-quality, organic foods for shockers looking to improve their health and shopping experience.
Next
This is another popular department store option for shoppers in the UK. Next caters to families looking for a one-stop shopping experience for fashion, home decor, beauty counter items, and sporting goods. The retailer offers many of the top brands in the UK, perfect for use in employee annual incentive programs or an employee recognition idea.
Google Play
For the Android crowd, a Google Play gift card gives your recipient access to the world of entertainment and productivity options offered on the app. Users can shop with a Google Play gift card for apps, games, services, music, and movies through the Google platform for use of its assortment of devices.
The importance of choice with employee gift cards
When trying to facilitate employee recognition, employee engagement, or employee incentive programs, the reward you offer matters. Having a wide variety of rewards available for showing employee appreciation ensures that most recipients can find something to delight them.
When curating gift cards for your employees, some of these popular attributes can make your reward program more attractive:
Useful: Many incentive program rewards offer gift cards for useful retailers including homegoods retailers stores, DIY stores, pet retailers, and other merchants. Rewarding employees with items that help their daily life is a great way to increase employee satisfaction.
Fun: Sporting goods, entertainment events, and other fun gift cards are a great reward option whether you're supporting remote employees or a local team. These reward ideas are easy to personalize by interest or geography.
Educational: Enriching the lives of recipients with your employee rewards program is easy when you offer educational gift cards for online courses, cultural experiences, and skill-building platforms. These are also a great way to encourage on-the-job learning for employees looking to expand their work skillset.
Experiential: Travel can offer great employee reward ideas for all your employees and teams. They can boost employee productivity, and even create social recognition when employees on experiential rewards like incentive trips share their adventures with others through social media.
Personalized: When you take the time to reward employees with gift cards or monetary incentive that speaks to their individuality, it greatly boosts the outcome of your programs. Recognition ideas that cater to the employee, their life stage, interests, or strengths all make for a successful employee incentive idea.
Runa: the plug-and-play solution for employee rewards
If you want to delight employees in the US or across the globe, Runa makes it easy to offer these top gift cards along with hundreds of other options for every interest and location. The Runa platform enables users to send their first campaign with just a credit card and a list of recipients and offers full features for delivering and tracking your employee recognition program with ease.
Ready to get started with a corporate gifting platform? Let us show you how, with a free demo.