For HR and People teams, the holiday season is often focused on the time-honored tradition of gift-giving. And for good reason; employee gifts are worth it. 2-in-3 employees report that a great corporate gift would make them more likely to stay with their current employer. But great gifts are only part of the story; company culture also has a huge impact on employee retention. A Columbia University study reveals that "the likelihood of job turnover at companies with strong company culture is a mere 13.9 percent, whereas the probability of job turnover in low company cultures is 48.4 percent."
What makes a strong company culture? According to Great Place to Work, community is the number one element of great company culture. Community makes employees feel like they belong and fosters better collaboration. And building community within an employer can often extend to giving back to the community at large.
So, this holiday season, honor the tradition of giving and giving back. There's no better time to foster a culture of giving and community than Giving Tuesday.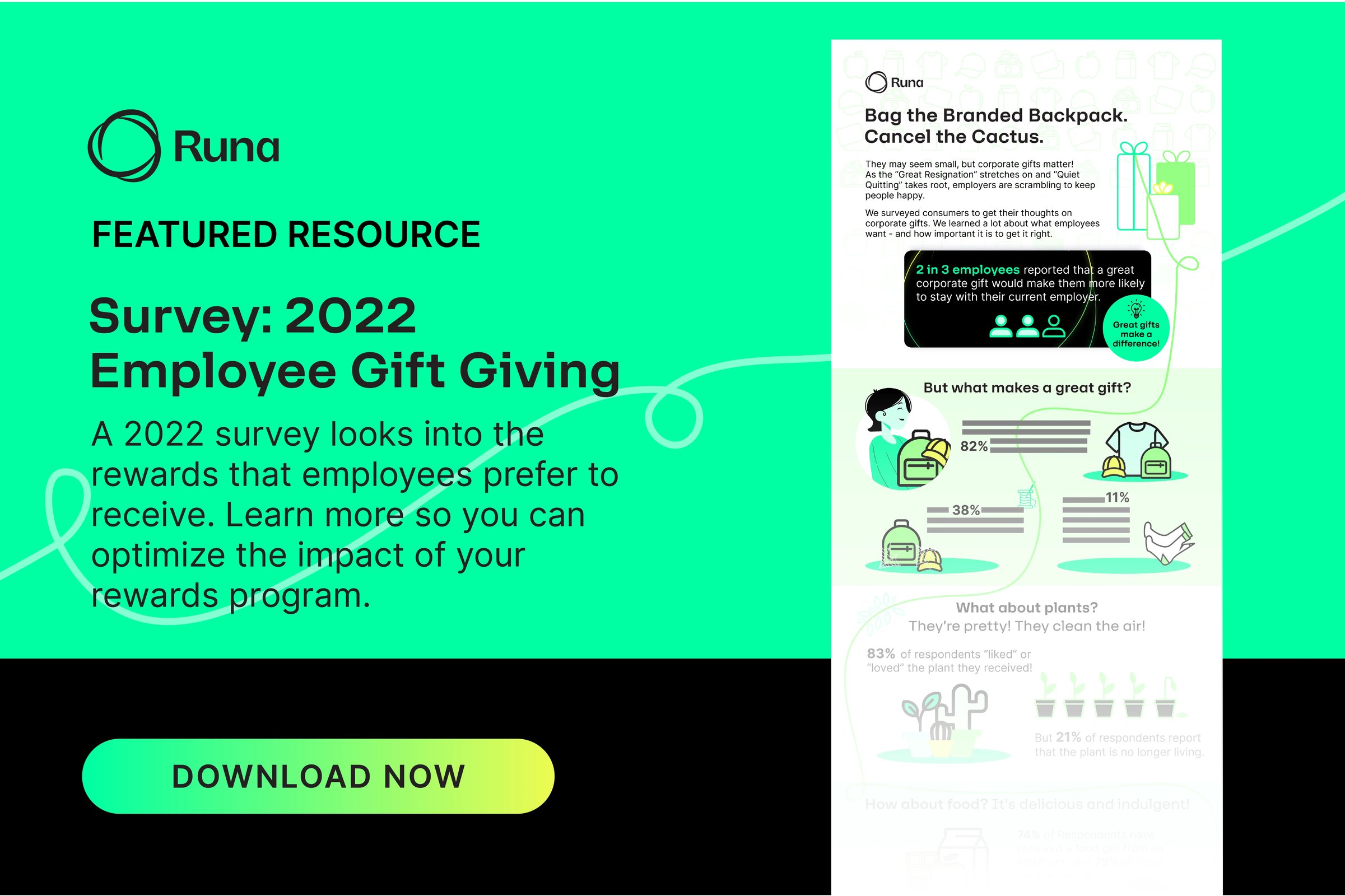 What is Giving Tuesday?
Giving Tuesday, often described as a global day of giving or a global generosity movement, takes place each year on the Tuesday following Thanksgiving. The movement started in 2012 and, a decade later, still inspires people to "give, collaborate, and celebrate generosity."
For companies and individuals who value service, generosity and giving back, here's how you can participate in Giving Tuesday.
Giving Tuesday Ideas for Corporations
Start small
Make Giving Tuesday a natural evolution of your existing company culture. What does that look like? Lead by example in ways that feel natural. Talk about, share or organize (non-mandatory) volunteer events that will resonate with your team. Then reward employees who model generosity with a shout-out, gift or other form of acknowledgement.
Even the smallest step counts in creating a company culture of giving. With time, sustainable give-back initiatives will solidify your brand values, improve employee satisfaction and benefit your community.
Organize a volunteer event
Volunteer events are a great way to give back to the community while also building camaraderie within your team. This Giving Tuesday, choose an organization with similar values to your own and organize a volunteer event. It's as simple as picking the organization, day, and time, and then inviting team members to join you. Allowing employees to volunteer during work hours would be an added bonus. Here are a few group volunteer ideas from GivingTuesday.org:
Donate blood at a local blood bank

Sponsor a family for the holidays

Give essentials to people experiencing homelessness

Participate in a beach or neighborhood clean up
Highlight team members
Highlight team members' Giving Tuesday plans to inspire more participation. Our team will be making and delivering meals to community members through Lasagna Love, a global community-impact nonprofit (www.lasagnalove.org). We'll celebrate encourage others to get involved in whatever way feels best.
Donate to a cause
Donating to a nonprofit or community-led organization is one of the simplest ways to participate in Giving Tuesday. There are a few ways for companies to do this:
Donate to a nonprofit that aligns with your company values and announce it to the team or company.

Offer a company match! Encourage your team to donate to a cause of their choice and match their donation.

Give a gift that keeps on giving! Give your employees the choice to donate to more than 1.8 million US charities with Runa.
How can Runa delight your employees with choice & flexibility this Giving Tuesday?
It's easy. Simply give your employees the ability to make charitable donations through Runa Select links. Purchase one gift card link offering all our charities and let them choose where to donate their funds. They can even spread the value across multiple charities, including:
American Cancer Society

CDC Foundation

Charity Choice

Charity on Top

Clean Water Fund

Equal Justice Initiative

Girls Who Code

GLAAD

National Park Foundation

National Trust (UK)

​​Special Olympics

The Charity Shop Gift Card

The Nature Conservancy

Unicef
Want to create a culture of giving this holiday season with Runa Payout Link? Arrange a free Runa demo today and spread generosity this Giving Tuesday (and beyond!)