Preparations for the holidays are in full swing. For most of us, that means decorating our homes, going through wish lists, and planning festive menus. For corporate human resource professionals, seasonal responsibilities include all of these, plus more. In addition to their standard, day-to-day workload, HR pros are often tasked with employee and valued customer gift giving responsibilities.
Creating, coordinating, and overseeing corporate gifting programs can be challenging, yet it has become even more difficult as ways of working have evolved. In an era where hybrid offices and remote work are common, HR teams can no longer line a table with gifts at an office holiday party, and expect employees to grab something from it as they head home for the evening. The process of curating, sourcing, and delivering gifts to various stakeholders too takes forethought and coordination. Consumable gifts (fruit and snacks) may not travel well. Alcohol may be difficult to ship across state or international lines. Plants may be costly to send. For many of us, creating and streamlining a strong corporate gifting process adds to holiday stress.
To discover how HR professionals feel about seasonal corporate gifting, WeGift conducted a survey to uncover the truth of the matter.
Delightfully, 80% of respondents shared that they enjoy the responsibility and only 9% reported dreading it.
What also bubbled up in this survey was that even with generally positive feelings, gift giving still has a few challenges.
23% of respondents rated their co-workers as the most-difficult people to shop for, matching the level of difficulty to shopping for parents or significant others. The same survey also revealed that HR teams take this responsibility seriously, as nearly 25% reported spending (at least) a full day's time researching, selecting, packaging, and sending corporate holiday gifts. An extremely dedicated 5% spent upwards of a month!
Given that effort, the good news is that 63% believe their co-workers like the gift received "a lot." A tiny 1.2% are of the mindset that coworkers "hated" what they received (whew!).
Giving what employees want
Gift giving, especially in professional environments, can be a complex process. To skirt accidental missteps, some businesses choose to give extra cash (or bonuses), since extra money is always a welcome sight. However, for employees dedicated to a business mission, cause, and goals, cash can sometimes feel a bit impersonal…and quickly forgotten.
Ahead of the holiday gifting season, WeGift conducted a separate survey to find out what employees really want and which gift items employees placed the most value on versus those that were considered less valuable. Of the survey respondents who received a corporate holiday gift, 80% reported that they "would be happy to receive" gift cards, the gift item that topped the list based on survey findings. Cash, interestingly, came in a distant second at 68%, findings that reflect national trends and are supported by research shared by the National Retail Federation (NRF). The NRF has reported, for 15 consecutive years, that gift cards are the most-requested holiday gift by employees.
This revelation didn't seem odd as survey respondents shared the most strange (and in some cases, completely inappropriate) gifts they'd received including underwear, socks, jumper cables, and a Christmas ornament with the boss' face on it!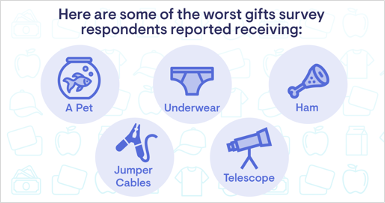 Human resource professionals remind us that their roles are steeped in the very definition of 'human.' In the thick of personal holiday hoopla, these very same team members are shopping, planning and gifting for co-workers–-striving to ensure that everyone has an enjoyable and positively memorable professional holiday experience. To those HR pros, we not only salute you and the work you do, but offer a handful of supportive takeaways from our survey:
The majority of your co-workers will value a holiday gift. At the core, you are giving them something they wouldn't otherwise have received. The right gifts have meaning and they will help your colleagues feel more fulfilled, be more engaged, and will be more likely to stay with the company.
Gift giving doesn't have to be a time-consuming process. An optimal approach to avoiding potential landmines is by giving recipients the gift of 'choice.' Gift cards serve as an optimal option as they are universally-loved, easily sent, and often create memorably experiences. Moreover, they can be purchased in bulk (and some even maintain discounts to help reduce overall expense!)
Underwear is not a desirable gift to give at the holidays (or any other time for that matter). Steer clear of undergarments at all costs!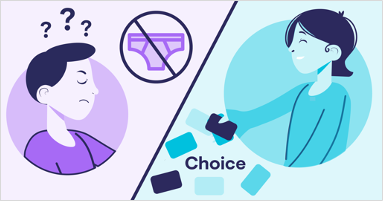 Interested in learning more about how to ease the burden of holiday giving by offering the gift of choice? Contact WeGift--we're here to help.