In the last installment of our series, we're answering some frequently asked questions about creating an employee rewards program. Some of your questions may be answered in parts one and two of our blog series. The series deep dives into what an employee rewards program is, how these programs benefit organizations and how to successfully roll out your program. It's the perfect opportunity to start the new year with a refreshed rewards and recognition program.
Read on for frequently asked questions about creating a winning employee rewards program.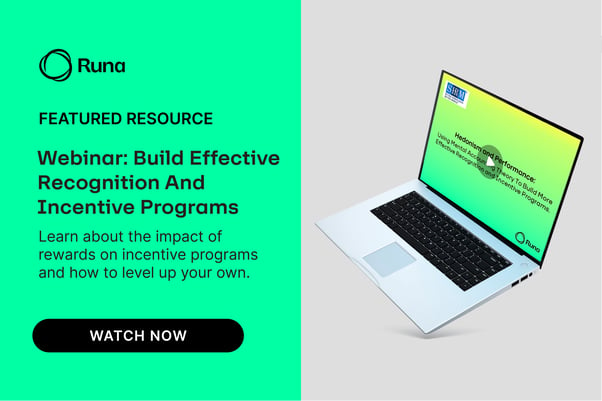 Are there any considerations for different generations and what they prefer in terms of reward?
Absolutely! People are different and deserve to be rewarded based on their individuality. This is why we suggest giving Baby Boomers, Generation X, Millennials and Gen Z the option to choose a reward that's most meaningful to them. Instead of trying to find one gift to fit everyone, give the gift of choice with our unparalleled catalog. Seamlessly send value globally with access to 1,300+ brands in more than 30 countries and 18 currencies.
Do employees react differently to receiving physical gifts vs. gift cards?
Yes. Each employee is different so reactions will vary. We suggest getting to know your team to find out what gifts they'd love.
But it can be hard to make all your employees with one physical gift. Gift cards are a better choice because they give employees choice, and they then choose something joyful and memorable.
In fact, The National Retail Federation has found that gift cards have been the most-requested holiday gift for 15 years in a row. Our research supports this, too. Our 2022 consumer survey revealed the top 5 gifts employees would be "happy to receive" are gift cards (80%), cash (68%), food (51%), branded merchandise or clothing (48%) and a plant (37%).
Runa makes it easier than ever for businesses of all sizes to start sending gift cards to employees in bulk. Our intuitive API instantly lets companies send bulk gift cards from thousands of popular brands, including Amazon, DoorDash, Starbucks, and Uber.
Are employee gift cards taxable?
The answer is complex. When building your employee incentive programs, it's important to understand the tax implications of any gifts you give. For tax purposes, there are only limited circumstances in which an employer can give considerations and have them classified as "gifts." Read our full blog on the circumstances in which an employer can give gifts, how tax law impacts the classification of gifts, and the tax liability to the recipient here.
We have a recognition program that allows employees to recognize each other. But it seems like the same employees get all the recognition and mid level or higher supervisors, etc. never get recognized. Is there a way to combat this?
Yes. Clear communication, recognition examples and repetition can combat this problem.
We suggest being explicit about how rewards work when you introduce your program. Be extremely clear about what behavior you're prioritizing and what outcomes you seek. Even suggest that front-line employees or individual contributors can recognize management and that recognition doesn't have to be top down. You can also encourage management to recognize each other, so recognition is received across the organization.
Should our organization give rewards based on performance or milestones such as years of service?
While it depends on your organization's goals, we believe the best programs reward both performance milestones and employee milestones. Want to know what's best for you? Read part one of this series to discover how to structure a program that's true to your company culture.
While we'd love to answer every question, we know this blog may not answer all of your questions. Schedule a demo to talk to us about how to use our powerful platform to build a winning employee rewards program to improve employee engagement, morale and productivity!