Winter often comes with office holiday parties, gift exchanges and potlucks. These are all fun ways to enjoy the season and celebrate performance, but they may not be what your employees actually want.
It's time to dig deeper and find a more sustainable way to show employees appreciation. Instead of giving them an occasional shout out or an ill-considered corporate gift, consider these trends to keep them happy and help them feel appreciated. By doing so, your organization can give a boost to your employee appreciation, employee satisfaction and employee retention.
So put down the mug, scratch the swag and keep reading to discover what your employees really want this holiday season.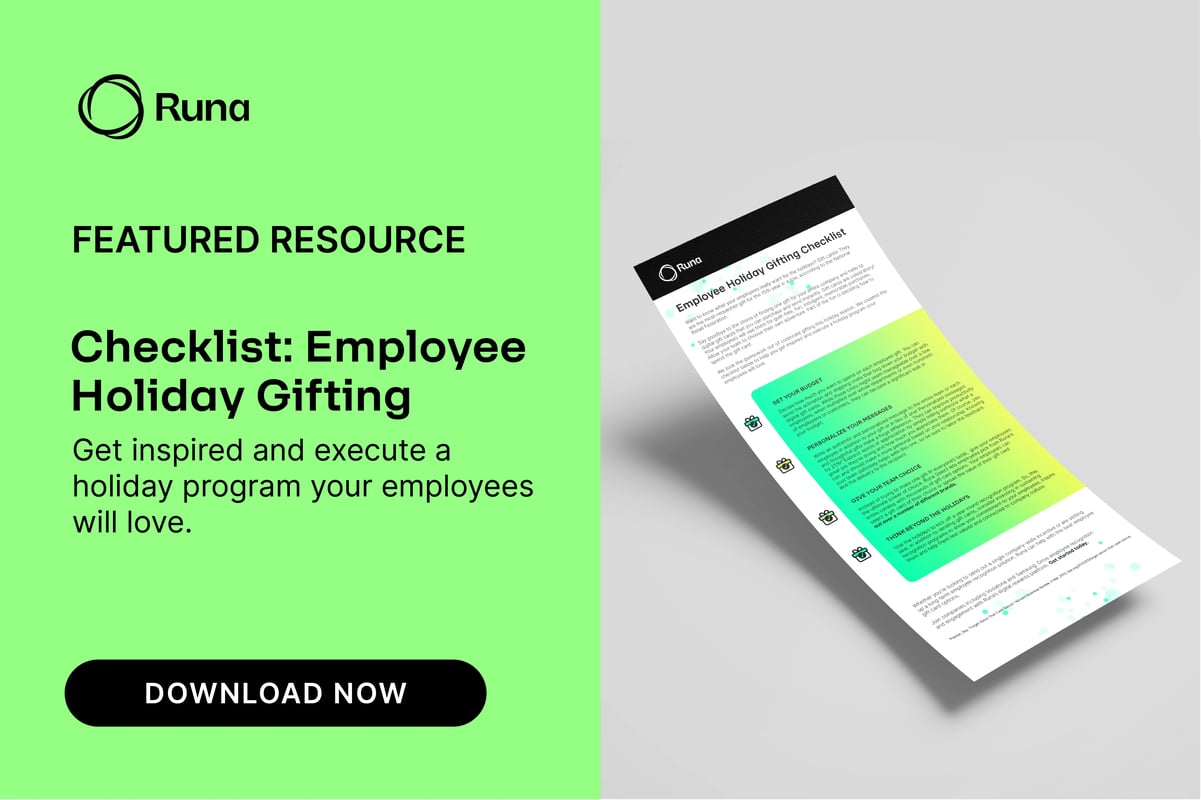 Employees want workplace flexibility
One of the best gifts you can give your employees is year-round flexibility to support a balanced life. Today's workforce is looking for more flexibility and a better work-life balance. McKinsey reports that more than 19 million US workers—and counting—have quit their jobs since April 2021. Some employees are fleeing without a new job lined up and some have no intention to return. Employees list lack of flexibility and remote-work options as one of the many reasons they are running out the door.
One way to keep existing employees loyal and engaged - and attract critical talent - is to be more creative about workplace flexibility.
Give employees control over where they work with remote and work-from-home options. The pandemic normalized this and employees started to expect it. For employees who left the workforce and later returned, nine out of 10 said that having control of where work can be done was an important factor in deciding to return. Offering flexibility can be a powerful recruiting and retention strategy.
Soxedo, a Runa customer, gets workplace flexibility right. They introduced FLOW (Flexibility Optimizes Work) to support their employees in a real way. Not only does the program provide location flexibility, FLOW allows employees to work flexible hours by splitting shifts, fluctuating start/end times, or even temporary arrangements like part-time hours to accommodate learning or life changes.
Workplace flexibility is the gift that keeps on giving beyond the holiday season.
Employees appreciate the flexibility to schedule doctor appointments, enroll in school, run to the DMV, or care for their families without the stress.
Employees want mental health support
The global COVID-19 pandemic in March 2020 shifted the way we worked forever. A 2020 CDC survey found that the number of people reporting anxiety symptoms have tripled and depression symptoms have quadrupled during the pandemic.
While most of us have returned to some kind of "normal," the mental, psychological and emotional impacts are still here. According to the American Psychological Association's 2021 Work and Well-being Survey, nearly 3 in 5 employees reported negative impacts of work-related stress. 32% reported emotional exhaustion, and 44% reported physical fatigue—a 38% increase since 2019.
Your employees want and need mental health support. Whether it's mental health days or adequate PTO to care for their physical and emotional health, most employees benefit from improved mental health initiatives. The Harvard Review reports companies that intentionally support mental health at work have employees who are less likely to underperform and miss work, with higher employee satisfaction and intentions to stay at their company.
Not to toot our own horn, but Runa gets it, and we have some impressive mental-health-support initiatives. Our UK insurance provides access to dedicated advisors, including mental-health nurses and personal support specialists. In addition to an open, transparent and compassionate environment, Runa offers employees "well-being days" to give people a break when they feel they need it. Well-being days are used at the employee's discretion to give them a chance to recharge their batteries. The time is in addition to annual leave entitlement, not part of it.
This holiday season consider intentional ways to support your employee's mental health.
Employees want authentic year-round recognition
Your employees want to feel appreciated year round, not just during Q4. At any given company, it's not uncommon for employees to feel that their best efforts are routinely ignored. Further, employees who do not feel adequately recognized are twice as likely to say they'll quit in the next year. But 68% of people surveyed in our 2022 Consumer Survey reported that a great corporate gift would make them more likely to stay with their current employer.
Yulife, another Runa customer, perfectly combines mental health support and employee recognition. The group life insurance "uses behavioral science and gamification to boost better physical and mental health with fantastic rewards." What a fresh take on employee recognition, life insurance and wellness!
You see, rewards don't have to be tied to sales metrics – you can choose an employee-centric incentive program to promote behaviors you want to see more of. The opportunities are endless.
So this year, in addition to sending gift cards, consider investing in sustaining recognition programs to show your commitment to your employees and inspire them to feel valued and connected to company culture.
Want to explore a better rewards program? Arrange a free Runa demo today!