How to make the most out of Black Friday Sales
Just about everybody loves a Black Friday sale. As well as officially heralding the start of the holiday shopping season, Black Friday is a day of discounted prices and great deals at retailers across the board. Better still, many of these stores are now getting in early to start their sales, making it easier than ever for savvy shoppers to nab some bargains.
So, what's the perfect accompaniment to Black Friday sales? Digital gift cards, of course! In this post, we'll take a look at the benefits of digital gift cards, why they are such a popular choice of gift among consumers, and finally, the best Black Friday gift cards today. Let's dive in.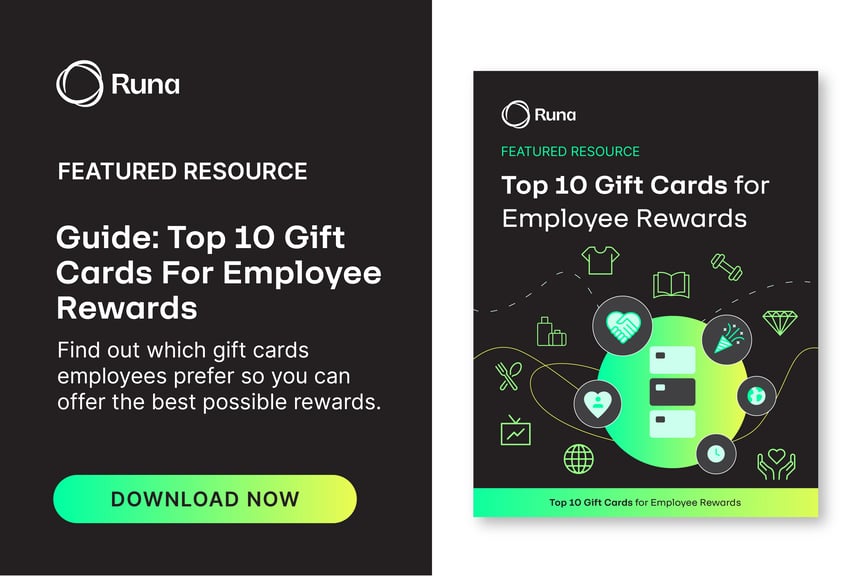 Why are digital gift cards so popular?
When it comes to the ideal gift of choice, it's hard to find a better option than digital gift cards. Gift cards are popular with consumers for many reasons, and an increasing number of smart businesses are turning to digital gift cards for their reward and incentive programs. Here's what makes digital gift cards so popular today:
Convenience — Digital gift cards are easily redeemable. Purchases can be finalized with just a few clicks, making them an ideal gift choice in today's increasingly fast-paced, digital world.
Choice — Digital gift cards offer recipients an unparalleled level of choice. With Runa, recipients can choose from over 1,300 branded gift cards, including convenient prepaid cards.
Versatility — Digital gift cards are both versatile and flexible. Some gift cards, such as prepaid cards, can even be used to pay for everyday items such as food, gas, and bills. What other holiday gift offers this level of versatility?
Benefits of buying gift cards in bulk
There's little doubt that digital gift cards are one of the most popular holiday gift choices for consumers. Businesses and service providers who take advantage of a digital gift card platform to buy and send gift cards in bulk also enjoy many benefits, including:
Simple ordering process — Ordering digital gift cards in bulk removes the need to source holiday gifts manually. With Runa, the process is easy. After adding funds to your account, it's simply a matter of selecting the desired number and value of cards and placing your order.
Swift delivery — Once your order is confirmed, the digital gift card will be emailed to your recipient within seconds. You enjoy the same quick, no-fuss process regardless of the number of cards delivered.
Balance recovery — With Runa, you can easily recover any unclaimed gift card balances. What better way to save on business costs?
Easy reporting — Our intuitive software makes reporting and tracking your gift cards easy. With insights into your recipients' preferred brands, you can quickly view how your gift cards are used.
Best Black Friday gift cards
When it comes to the ultimate selection of Black Friday gift cards, we've got you covered. Our market-leading catalog has a huge range of digital gift cards from globally recognized brands, leaving you and your recipients plenty of choices. Let's take a look at some of the best Black Friday gift card options:
Amazon gift cards — When it comes to great Black Friday deals, you simply can't surpass the world's largest online retailer. Already known for its regular specials and deals, Amazon outdoes even itself on Black Friday. With so many options and deals under one roof, Amazon truly is the perfect place for holiday shopping.
Department store gift cards — Department store and other large retailer gift cards such as Target, Walmart, and Home Depot can be seen as the ultimate play-it-safe Black Friday gift card option. Similar to an Amazon card, a gift card from one of these major retailers is sure to please even the fussiest recipients.
Bookstore gift cards — Books provide one of the best forms of escape and relaxation. Let's face it; we could all use a little of those things in the lead-up to the holiday madness. A gift card from an online retailer such as Barnes & Noble or Audible will hit the spot perfectly.
Fashion gift cards — Whether your recipient is a dedicated follower of fashion or simply buys clothes to survive, a gift card from a leading retailer such as GAP or Old Navy won't go amiss. Even the most practical recipient is sure to appreciate a new seasonal outfit.
Apple gift cards — No doubt, an Apple gift card is a highly sought-after holiday gift. As well as being a globally-recognized brand, Apple is the largest supplier of smartphones worldwide. Enough said!
Athletic gift cards — We all benefit from keeping active and physically and mentally fit. Even the not-so-sporty will find great use in a gift card from a leading athletic retailer such as Adidas or Nike on Black Friday.
Rideshare gift cards — For the savvy shopper wanting to take advantage of the Black Friday sales in person, a gift card from Uber or another ride-sharing app is the perfect gift card. What better way to get around all of the stores in town?
Starbucks gift cards — Let's face it, a hard day's holiday shopping requires a lot of fuel. And what better fuel to power the day than a well-deserved latte and bite to eat? A Starbucks gift card is sure to be appreciated by all who receive it.
Prepaid gift cards — When it comes to ultimate versatility, you can't go past a prepaid digital gift card. Prepaid cards, such as Visa prepaid cards, can be used to pay for a host of Black Friday purchases worldwide.
Still stuck for Black Friday gift card ideas? With Runa, your recipients can choose their own! Give them the ultimate gift of choice via our full catalog or a pre-approved selection from you. What could be easier?
Gift cards for holiday incentives and employee gifts
Businesses use digital gift card programs for various reasons, one of the most popular being employee gifts, bonuses, and incentives. It's now a widely accepted fact that incentive and reward programs not only encourage staff to continue to perform well in their roles — they also create a positive feeling of connection between employer and employee and improve cohesion between teams.
What better way to incentivize and reward your valued employees than with a digital gift card? And what better time of the year to bestow this gift than at the start of the holiday season? A real-time reward in the shape of a Black Friday gift card from a favorite retailer is the perfect choice of holiday gift — one that will help your employees feel recognized and appreciated and ultimately lead to better business outcomes.
Send gift cards to anyone with one reliable API
Gift card APIs are revolutionizing how gift card programs are implemented and managed in the modern era. Thanks to modern APIs, it's simply never been easier for businesses to send digital gift cards instantly, at scale. And at Runa, we're leading the way.
With our intuitive and reliable API, your business will enjoy the benefits of:
Simple integration process — Connecting your business to the gift card API is a seamless experience. Simply have your developer connect the interface to your business's internal systems. This process should be complete within 1-2 weeks, and once done, you'll be able to test, develop and explore the application as often as needed.
User-friendly platform — Our full-featured and user-friendly platform allows you to choose how to send your gift cards, download all required URLs, and access required reports. With us, you can sell, track, load, and redeem digital gift cards all via the one handy platform, with all data being managed by a single API.
Ultra-fast delivery — With Runa, ordering and sending gift cards is as quick and easy as sending an email. Ultra-fast delivery means less fuss and time spent buying gifts and more on running your business!
Personalized experiences — Deliver a personalized experience to each recipient with a full range of gift card customization options, including email templates, order descriptions, and delivery formats.
Black Friday gift cards made easy with Runa
At Runa, we've made the process of ordering and delivering Black Friday gift cards easier than ever. Our direct partnership with some of the world's leading brands gives your business access to the globe's largest network of digital incentives. From fashion gift cards to prepaid cards, Amazon gift cards, and more, your recipients are sure to be left delighted at the sheer scope of choice available to them.
Whether you're looking to implement a single Black Friday or holiday gift card program or want to set up a longer-term digital incentive solution, we're here to help. The great part? You benefit from the same easy process, whether you send one or one million gift cards!
Keen to learn more about how your business can get started sending Black Friday gift cards at scale? Arrange a free Runa demo today!