Employee rewards are a powerful way to mark big achievements and occasions. Things like:
Appreciation - Thanking them for a job well done

Recognition - Recognizing them on a work anniversary

Celebration - Celebrating a company-wide milestone or giving an award
Of course, the kind of reward you send can matter hugely. And, in the digital-first, remote-working world of 2021, one of the best options is sending digital gift card rewards.
Gift cards are great for employees, who get flexibility around when, where, and on what to spend them.
But digital gift cards are also a great option for employers, as they're:
Instant – you can go from idea to inboxes in seconds
Bulk – you can send them company-wide without worrying about logistics
Global – you can make sure there are suitable options, wherever your workers are
Looking for an instant rewards platform? Runa can help.
So let's take a look at some of the most popular employee gift card options.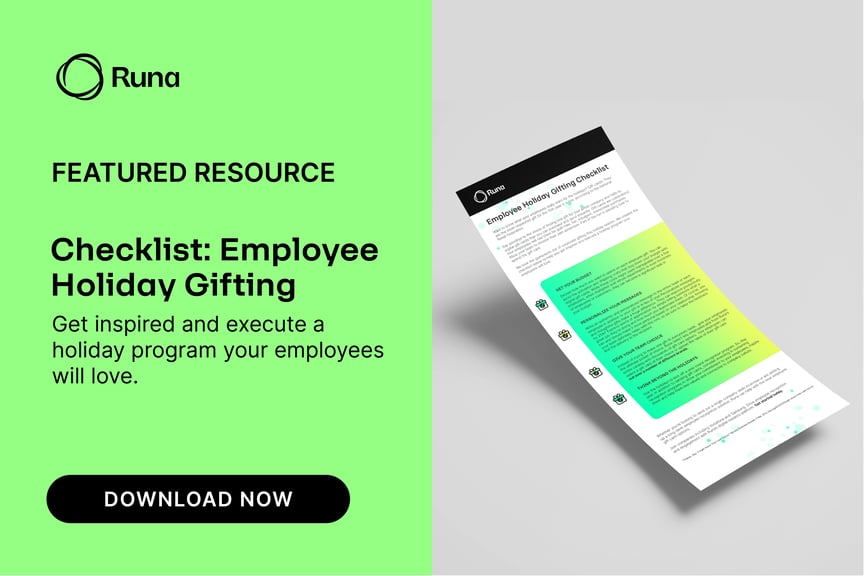 Top 10 employee gift cards
1) Food delivery – e.g. Uber Eats, DoorDash, Dominos

The first step to an effective reward is finding something that works for everyone.
Well, everybody eats, right?
Food delivery gift card rewards are the perfect option to thank employees who have been working extra hard, and have been clocking off too late to cook.
Or better yet, it's perfect just on those days where they really deserve a treat.
2) Streaming services – e.g. Hulu, Spotify

When people work hard, they need downtime. Something to help them unwind at the end of the day and feel ready for a new challenge the next day.
Streaming services offer your employee exactly that.
Streaming gives your people the chance to relax to something they'll really love, whether that's a favourite album, a new movie, or that latest true-crime series everyone's talking about.
3) Books – e.g. Barnes & Noble, Audible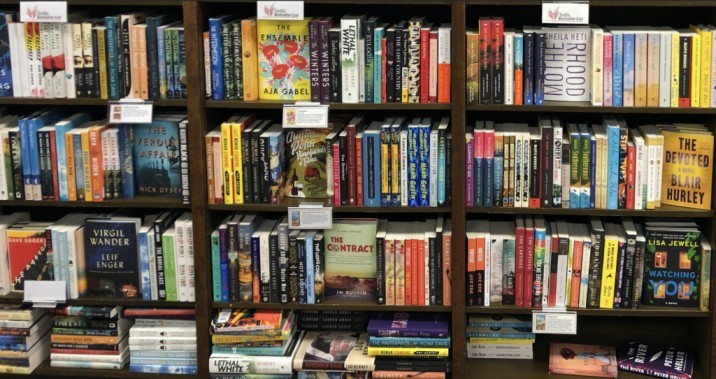 Many people stare at a screen all day for work, so they require a break from it in their downtime. So why not offer them an escape into a non-screen story as an appreciation gift?
Reading not only helps people to feel less stressed, it can even boost their work performance in some unexpected ways (Business Insider shared 10 reasons reading helps people to be excellent employees).
But mostly? It gives people a chance to escape to another world for a few hours, which is a pretty powerful gift.
4) Fashion – e.g. GAP, Old Navy

Not every employee will be a dedicated follower of fashion, but clothes egift cards can be as functional or as fashionable as the recipient wants - making them an excellent reward for anyone.
For some, they offer a way to treat themselves to something special for a big night out.
For others, they can be a way to live up to the old adage of dressing for the job they want.

After all, new business clothes every once in a while can give you that little boost in confidence you need to keep taking the world by storm.
5) Experience/Vacation – Ticketmaster, Hotels.com

There are few better ways to unwind than doing something truly new. After all, these experiences stay with us for a long time.
Showing appreciation to employees by helping them to fulfill a lifelong ambition, or helping them to finally take that city break they've been putting off, will leave them incredibly happy.
And, knowing that you helped them get it will leave them incredibly grateful, too. That's why a holiday gift card goes a long way.
6) Exercise – e.g. Nike, adidas

Being active is good for the mind, body, soul, and even effectiveness at work.
Burnt out employees are less engaged, and that lower engagement could be costing you as much as 34% of an employee's salary.
Helping employees with exercise can be an excellent way to keep their stress levels down (and their productivity levels up) - That's what makes exercise gift cards very popular for employee benefits.
7) Parenting and caregivers – e.g. Crate and Kids, CVS

Looking after people at home can feel like a full-time job in itself, so for your employee that is juggling work and life commitments, a reward that recognises this struggle can mean a lot.
And anything you can do to help lighten that load can make a huge difference for all involved.
8) Habit cards – e.g. Uber, Starbucks

For some people, deciding what to spend a gift card on can be its own problem. Too many options leads to paralysis by analysis.
Instead, why not offer them a gift certificate for something you know they'll be paying for anyway - like that morning latte, or credit for a ride-hailing app?
Sure, it might not be as glamorous as some of the options here, but the money you're saving them is money in their pocket for something else they really want.

Still not sure what to get them? You can play it safe with an everything-under-one-roof option.
Your employee can pick anything out of the whole range, so they're sure to find something to spend the gift card on.
But, if you're considering this route, there might be an even more effective way…
10) Best of all – let them pick for themselves

Your employees know what they want.
The best gift card service doesn't make you choose for employees - it lets them choose for themselves.
Runa – the plug-and-play solution for employee gift cards
With Runa, you get all those benefits we saw at the start (Instant, Bulk, Global), along with a host of extra benefits, like:
Letting employees choose for themselves from more than 1,000 gift card brands, or a pre-approved basket from you
Tracking redemptions on a company-wide scale to see which departments engage most, for instance
Saving all the money spent on unclaimed cards as they're automatically recovered, unlike cash rewards
And, best of all, getting data on where cards are spent, giving you invaluable insights into what really motivates your employees
Whether you're looking to send out a single company-wide incentive, or are setting up a long-term employee recognition solution, Runa can help with the best employee gift card options.
---
Join companies like Vodafone and Samsung. Drive employee recognition and engagement with Runa's digital rewards platform. Get started today.
---