How to order bulk gift cards
Gift cards are one of the best incentives you can offer to your employees or customers. They give them a tangible and personalized reward they're bound to appreciate. And buying your gift cards in bulk makes good business sense, especially if you work at an enterprise-level or multinational company that is distributing a high volume of gift cards to various brands at scale - whether it be for employee incentives or customer acquisition purposes.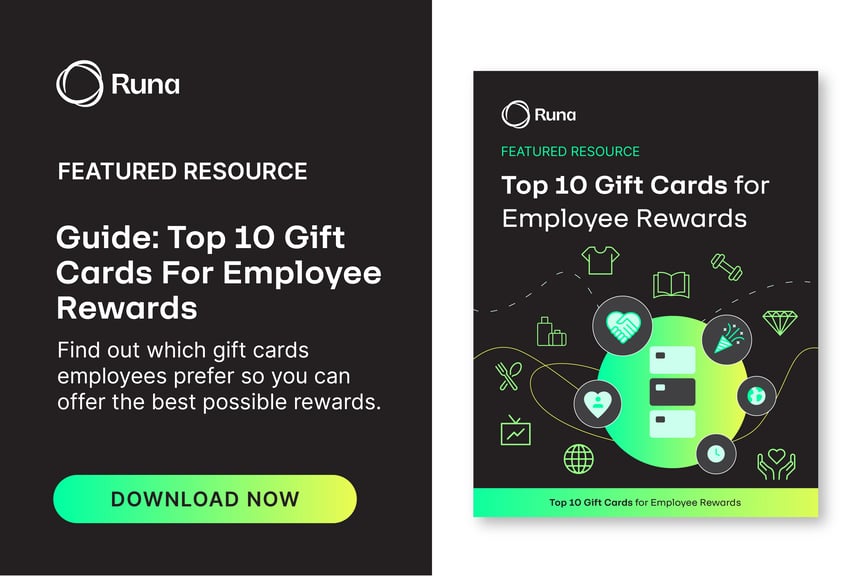 Reasons to Buy Gift Cards in Bulk Quantities
Buying gift cards in bulk helps you maximize the impact of your company incentives for employees or promotional programs for customers. Bulk eGift card orders allow you to send rewards with prepaid cards from major retailers that can instantly be redeemed for products or services. But most importantly, you'll get major cost savings from buying your gift cards in large orders.
Runa makes it easy to buy and distribute gift cards at scale. Our customers get access to our exclusive catalog with over 1,000 major brands. Talk to us to get the full scoop on how it works.
Bulk gift cards are an inexpensive rewards option.
Purchasing gift cards in bulk tends to be a far less expensive choice for corporate gift card programs and incentives in comparison to the alternatives, especially for large corporations with tons of recipients.. Sending out eGift cards instead of physical gifts is especially cost effective for companies with global offices. And eGift cards eliminate packaging and postage costs, in contrast to mailing physical gift cards or actual gifts, where the shipping fees can add up quickly.
It's worth noting that with Runa's gift card management software, there's another way you can save big. For even more savings when sending your gift cards through your Runa account, When the gift cards you purchase through Runa are not redeemed by their recipients by the expiration date, the unclaimed value is automatically sent back to you. So nothing goes to waste -each and every dollar you spend through Runa goes toward increasing your employee or customer engagement.
Mass appeal - everyone loves gift cards
It can be difficult to find incentives that please everyone, but gift cards are about as close as you can get without giving someone cold hard cash. With Runa, each gift card recipient can choose from over 1,000+ major retailers, so they can buy from their favorite stores (using Starbucks or Amazon gift cards, for example). This level of flexibility gives recipients even more motivation to participate in customer promotions or other types of incentive programs. And Runa's expansive catalog allows you to incentivize people around the world, with access to brands in over 26 countries.
How gift cards can help boost your bottom line
Once you've got a proven incentive program in place, sending out gift cards in bulk quantities allows you to scale your promotions and increase your return on investment.. If your sales or marketing team is trying to inspire customers to take a certain action or purchase a specific product, pushing a gift card reward is an impactful way to increase your conversion rate. And after you've tested a gift card campaign on a small scale and you're ready to take it to a bigger stage, buying gift cards in bulk will give you the foundation you need to ramp things up.
In corporate incentive programs, when you send gift cards to reward employees for their hard work, those seemingly small tokens of appreciation can go a long way. Sending eGift cards to all your employees after performance milestones or the completion of big projects helps them feel recognized for their contributions. In the long run, these types of gestures increase employee happiness, which leads to improved performance, and, in the end, that typically translates to better business results.
Bulk Options for Buying Gift Cards
Bulk gift card orders empower you to run more effective incentive programs by enabling you to scale your distribution.
Using the Runa platform, it's easy to bulk order gift cards and send them out automatically. To learn more about how you can get started with Runa, click here to start sending gift cards in bulk.
Bulk gift card pricing - fair and reasonable
Generally speaking, the bigger the bulk order you're placing, the better the discount you'll get from a provider. For companies that need a branded look for specialized promotions, customized bulk orders for your gift cards may add to the cost. That's why Runa is the preferred partner for companies placing bulk gift card orders - as a Runa customer, you get access to the best deals, and we don't surprise you with any hidden fees.
Types of gift cards you can buy in bulk
Many major retailers have gift card have website features - sometimes even APIs - that allow you to order gift cards in bulk. But the downside with that purchasing method is that your gift cards might be hit or miss depending on your audience.
That's why customers love Runa's select card feature, which allows recipients to choose which brand they want to spend their gift card on. To hear more about how it works, get a demo of Runa.
Bulk buying options for gift cards
It's critical to choose a trusted source for your corporate gift card program to be sure your employees and customers don't fall victim to gift card fraud. With Runa, you don't have to worry - we take privacy and security which has earned the trust of major brands like Vodafone, Sodexo, and Perkbox.
If you have a global workforce, you'll need to be even more selective about who you choose as your gift card provider. Instead of wasting time and money on gift card program logistics and communications, Runa can instantly send your rewards to recipients in multiple countries so you can recognize more of your employees.
Buying and Distributing Gift Cards in Bulk
Gift cards are used by companies to incentivize both employees and consumers. For employees, eGift cards are a perfect gift for those who reach their monthly quotas or provide excellent customer service. For customers, eGift cards are a great way to encourage users to leave a review online or to purchase a new product.
Gift cards for employees
In addition, sending a gift card is a nice gesture for individuals who reach performance goals or receive an award at a company-wide event. Digital gift cards let employees purchase their own reward for a more personalized incentive.
Using Runa, you can monitor your corporate gift program to see which rewards have been redeemed, which major retailers are most popular among your employees, and which of your departments receive the most rewards. Regular incentives with digital gift cards can also be part of your corporate benefits program.
Gift cards for consumers
Both eGift cards and physical gift cards can be valuable marketing tools for your business for customer acquisition and retention and to build loyalty. Gift cards can incentivize potential new customers to purchase your products, or they can even encourage your existing customers to participate in user research studies. Some companies use gift cards for their customer appreciation programs, which help solidify corporate reputations and enhance customer relationships. Gift cards are a great alternative to cash rewards or cashback programs because they provide recipients with a valuable reward that they can redeem at their favorite store.
How to buy physical gift cards in bulk
Many companies use physical gift cards, which can be obtained directly from major retailers or through a bulk order from a wholesale distributor. While physical gift cards may be appropriate for smaller companies, larger corporations save more money with digital gift cards.
Physical gift cards versus digital cards
Most large corporations prefer digital delivery to save time and money. By signing up as a Runa customer, your HR department can send eGift cards to 100 people or 100,000 with just a few clicks, and you'll get access to tracking services included for valuable data insights. Physical gift card purchases can be more cumbersome for large companies, as they require more time and resources to give employees the same reward that they'd receive from an eGift card.
Buying bulk physical gift cards from a store
Most major retailers sell physical gift cards, but unfortunately they very rarely offer discounted gift cards on bulk orders. And off course your company is also on the hook for added costs like packaging, printing, and postage to get them delivered, with additional costs for recipients who are overseas.
However, with Runa you can skip the trip to the store, saving valuable time for your HR and marketing teams while delivering customized incentives for both employees and customers. Runa customers have the ability to purchase virtually any amount of bulk gift cards right from your computer, and not to mention, with the best rates available.
Online security for digital gift card programs
Security is a top concern for corporations, and you need a trusted provider to help you manage your employee incentive or consumer reward programs. Runa is proud to power gift card services for well-known companies around the world, like Vodafone and Sodexo. Our online ordering and engagement tracking gives businesses a secure way to order gift cards without thinking twice.
Buying your digital gift cards in bulk from Runa
Runa's gift card management software offers the most efficient and effective way to place bulk gift card orders online.Your gift recipients get an instant reward that they can use to purchase a personalized incentive, and your company can monitor your rewards program online with real-time insights that give stakeholders instant data about the ROI of your corporate programs.
Request a demo today to see how Runa makes it easy to bulk order digital gift cards.