With continued talks of recessions and inflation across the economy, budgeting and saving money has become a priority for many consumers. One strategy that has gained significant popularity is leveraging loyalty programs. Loyalty programs not only provide customers with exclusive perks and rewards but also offer a tangible way to save money on everyday expenses.
To cope with an uncertain economy and rising inflation, an increasing number of consumers are actively participating in loyalty programs to maximize their savings. Now is the time for companies to introduce and update their loyalty programs to address consumer needs.
The Current Financial Landscape Is Unsettled
While there are differences in financial stressors across generations, consumers of all generations remain tasked with adjusting their financial behaviors to lessen inflationary pressures and live better within their means.
In March 2023, inflation stood at 5%, down from its peak of 9.1% in July 2022, as reported by the Bureau of Labor Statistics' Consumer Price Index. This persistent increase in the cost of living poses challenges for individuals across all income brackets to meet their financial needs. PYMNTS New Reality Check Report for April 2023 research indicates that as of March 2023, 60% of consumers in the United States were living paycheck to paycheck, defined as those who struggle to pay their monthly bills.
While millennials and low-income earners represent the largest percentage of consumers living paycheck to paycheck. Some demographics adjust to the raising inflation while some don't seem able perhaps due to their stages of life:
The millennial generation remained at 73% are living paycheck to paycheck from last year, and
More middle-income income consumers are now living paycheck to paycheck. 65% of consumers earning between $50,000 and $100,000 are now struggling to meet their monthly bills this year versus 63% last year.
Baby Boomers and low-income consumers have adjusted their spending to cope with inflation resulting in only 50% living paycheck to paycheck; and 75% of low-income consumers — those earning less than $50,000 annually – living paycheck to paycheck.
The economic crisis has proven that no one is exempt as inflation has impacted consumers across generations and income. Cost saving loyalty programs have and can help more consumers across generations live within their means.
The Rise of Loyalty Programs in a Time of Recession
Loyalty programs are a tool for consumers during times of uncertainty as they seek more flexible and cost-saving rewards. Consumers have to spend on essential products, but are forced to stay their means, and even cut nonessential spending. High-costs have forced priorities to change and many consumers are now willing to try new cheaper products and brands to save. The Federal Reserve reports that nearly two thirds of adults stopped using a product or used less because of inflation and 64% switched to a cheaper product.
While brand loyalty is fleeting, programs that offset expenses attract consumers less interested in brand loyalty and more interested in meeting their essential needs.
Runa's recent survey also shows that consumers are jumping ship for cost-savings and better redemption choices, too. Our reports show that loyalty members would consider switching to another program if it offered an expanded gift card catalog with more retail brands (40%) and more local and small business gift cards (39%) among other choices.
Our survey reveals consumers actually prefer to earn essential rewards and cashback with 69% of respondents enrolled in a grocery store loyalty program. In times of recession, consumers will want to switch their rewards to the essentials. So make sure your rewards catalog has essentials like grocery, fuel, pharmacy and department stores.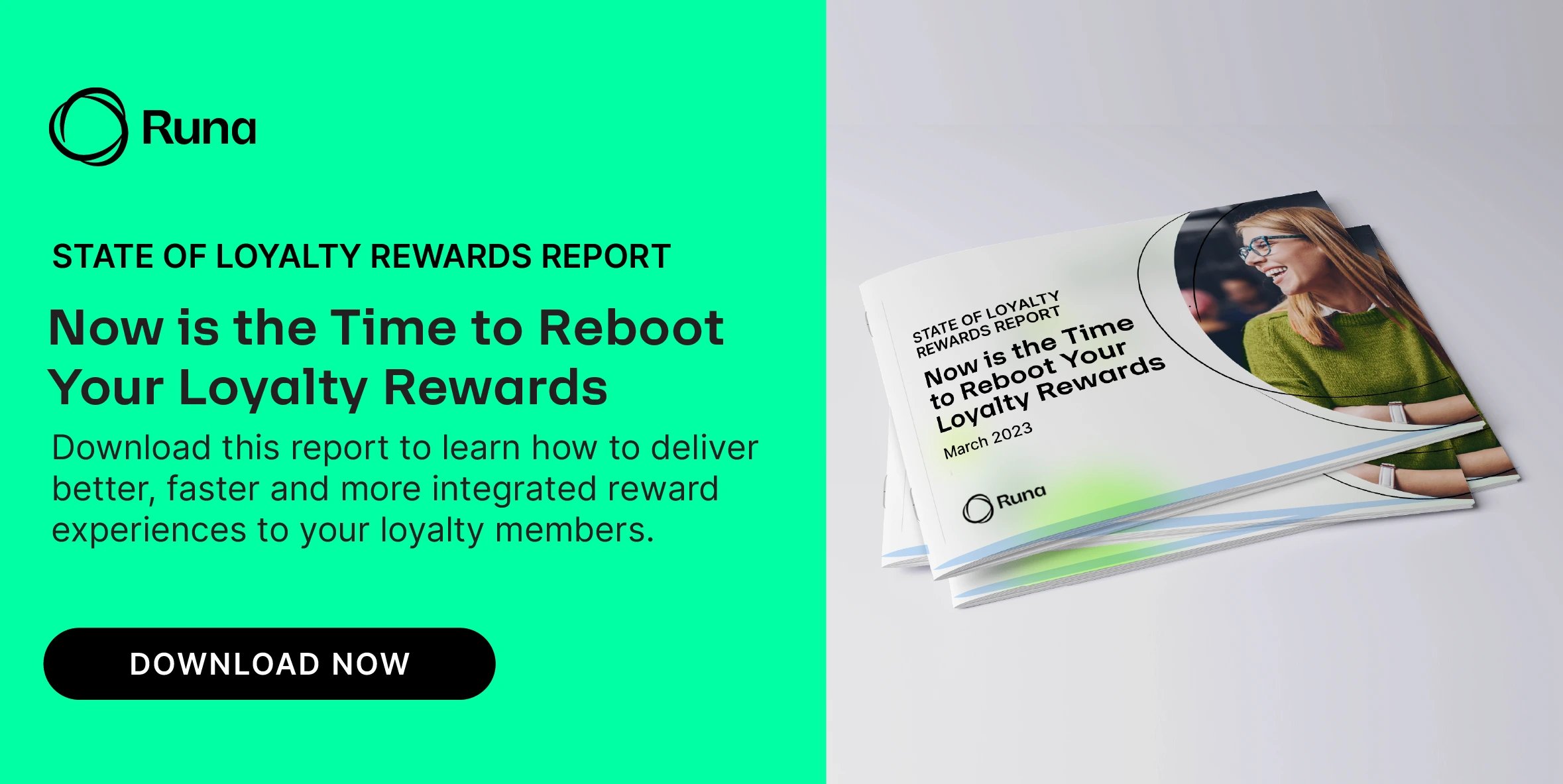 Strategies for Loyalty Programs to Meet Consumer Needs
Give consumers agency and choices to save money instead of limited discounts.
While consumers want to save money, far too many organizations are offering discounts that consumers don't want. Loyalty programs are offering special discounts on products and services (49%) as the most common form of reward to consumers. When asked, only 15% said they prefer special
discounts on products and services. 21% of consumers want a Visa or Mastercard gift card likely because of the flexibility to offset expenses in a cost-of-living-crisis.
Offer Experiences
Consumers see the current inflation as worse than it is. So much so that 59% of shoppers are cutting back on spending even if they have not lost buying power due to inflation. Offer customers the opportunity to splurge on novelty experiences because consumers just aren't spending their paychecks on luxury right now. Plus, people are primed to see rewards as a treat so experiences have an even greater impact. It's a win-win!
Retain Customers with Diversity
Customers are more than willing to leave your rewards program for something better. So give your members a reason to stay the right mix of digital value, experiential rewards and cost-savings to lessen the chances of them jumping ship.
Power Your Loyalty Program with Runa
With Runa, you can cater your diverse customer base with our leading payouts network. Capture the attention of a wider audience and retain your valued customers by leveraging Runa to power impactful cashout experiences. It's more important than ever as customers start paying more attention to their bank accounts. Request a demo today.
Photo by Tara Clark on Unsplash