Increasingly, Human Capital Management solutions (HCMS) and Human Resource (HR) platforms are integrating incentives, rewards and recognition programs. But the payout functionality has many additional use cases that go far beyond rewarding and recognizing employees. Once you've integrated a payout solution, the possibilities are nearly endless and can become a solution to problems you (and your customers) may not have even identified.
The Runa API gives HCMS and HR platforms more ways to scale successful employee rewards program and to send instant payouts to anyone around the world. Embedding payouts functionality give platforms more utility for their customers, generates product stickiness, and - perhaps most excitingly - can create risk-free channels for revenue.
But how can you use a simple payout API or a mass payout API to go beyond employee recognition and give your customers more ways to embed payouts within your HRMS and HR platforms?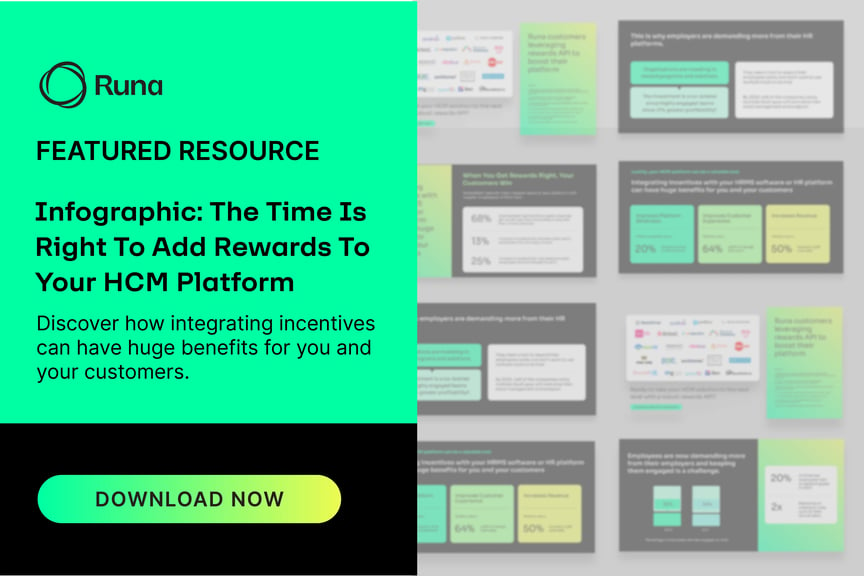 Employee Expense Management
With an integrated payout solution, your customers can issue expense reimbursements without leaving your HCMS and HR platforms. Your customers can reimburse their employees with prepaid Visa cards or through a Payout Link, which provides a huge range of choice and gives recipients the ability to select their preferred brands. No matter the reimbursement policy, payout functionality helps customers simplify their reimbursement process without leaving your platform!
Celebratory Funds Expense Management
Help organizations upgrade company potlucks with payouts for celebratory funds. Customers can use this feature to send restaurant eGift cards for an in-person team lunch or food-delivery eGift cards for virtual meet-ups. An integrated payout solution allows HCMS platforms to inspire customers to celebrate however they see fit, while capping costs at a specific value. This is a great way to keep the team happy without losing control of that corporate expense account. For even more flexibility, prepaid payout options, like a Visa® eReward Card, allow global customers to control costs while creating great company culture.
Learning & Development Expense Management
Customers with Learning and Development budgets can use payout functionality to streamline their processes. Whether employees expense the cost or the company pays for education directly, HR and People teams are spending time on this administrative task. Payout functionality can help HR professionals reclaim their time and empower employees to use the L&D budget with advanced payouts or simplified reimbursements.
Employee Referrals Incentives
HR and People teams likely already use HCMS and HR platforms to onboard new employees, so make it easy for them to give referral payouts right in the platform. As your customer's happy employees sing the praises of their employers and send plenty of referrals, your platform makes rewarding those referrals quick and easy. Referral bonuses can be disbursed with prepaid Visa cards or, more memorably, with a fun reward the recipient selects themselves.
Sales Incentives
Customers can use the payout functionality to incentivize their sales teams. Studies show that people who are incentivized by a desired, non-cash reward outperform people who are incentivized by its cash equivalent. Companies who know this need to easily and quickly give out performance-based incentives to satisfied diverse teams. Become indispensable to your customers with a feature that helps their bottom line.
Employee Wellness Benefits
A healthy workforce is essential to organizations, and leading companies are investing in employee wellness to improve retention and productivity. One secret to increasing employee participation in wellness programs is to reduce the time and effort needed to participate in well-being programs.. One way to simplify employee wellness benefits is to enable users to give gym memberships or fitness eGift cards to their employees.
Integrating Rewards APIs Can Make Your Platform More Engaging. These are six great ways to use payouts within your platform once you integrate our rewards API. Adding this functionality will improve your platform, your customer experience, and allow you to grow with your customers. Curious about adding payout functionality to your HCMS solution or HR platform with our API? Let's talk! Schedule a demo today.