Many successful Human Capital Management Systems (HCMS) find their niche. They become the go-to HCMS platform for a segment of customers, such as specific industries, organization sizes or geographic locations. It's not a bad way to go! But, for HCMS platforms looking to maximize their revenue, it can be helpful to expand your targets and reach a broader set of customers. One great way to do that is to ensure that your platform can service a wide range of needs by offering a huge range of payouts.
With our API, HCMS and Human Resource (HR) platforms give their customers more choice to support a broader range of programs while also creating risk-free channels for revenue. By integrating rewards APIs, these platforms can scale and add more value for their customers, ultimately driving engagement, growth, and success for their business. And giving customers innovative tools is more important than ever. According to Gartner, by 2026, half of the companies using multiple SaaS apps will centralize their stack management and analysis. Organizations will search for a well-rounded HR stack complete with their favorite tools, apps, and integrations. Now is the time for HCMS and HR platforms to scale, adding more capabilities and value for their customers.
So how can you scale your HCMS, HR and employee rewards platform? Use our simple API to integrate a digital value network that allows your customers to pay and get paid by anyone, anywhere, instantly.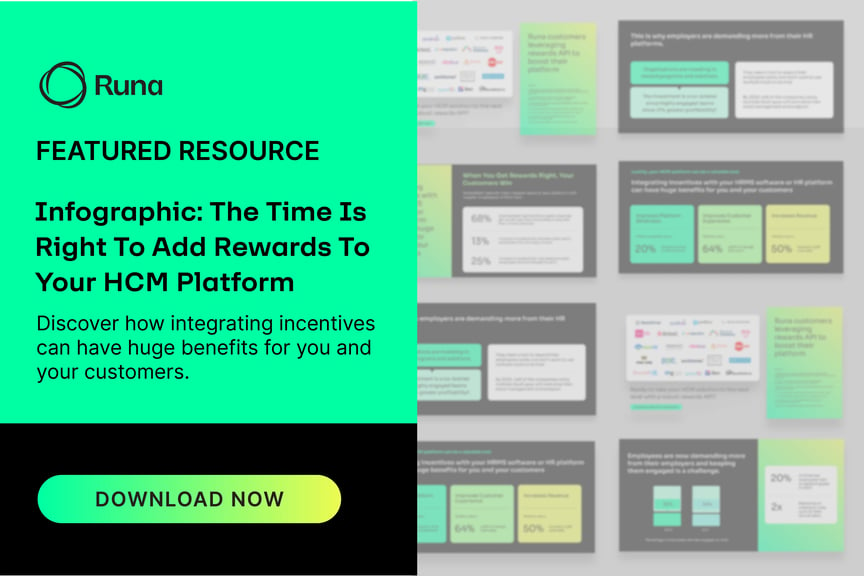 Why does a broad catalog of digital value types matter?
A wide network is adaptable to multiple industries and customers
Your customers change, and what they find valuable will change. Having a broad catalog of payouts will insulate your platform. As your customers and their employees want (and maybe demand) diverse types of digital value you can better serve those changing needs. Your platform can attract and retain organizations with diverse needs by offering more rewards and types of digital value.
That's great for your existing customers, and it might be even better for picking up new customers. Different industries have different priorities and find different types and ways of payouts valuable. That varied catalog ensures that all types of customers across all types of industries will find rewards that are, well, rewarding.
A wide catalog lets you support customers as they scale.
As your customers scale, their needs become more diverse. As they enter new markets and hire globally, they may have to take new approaches to employee engagement. That means they'll need a solution that can support new languages, new currencies and new geographies.
A broad catalog of digital value allows your product to be more expansive. Grow with your customers with a broad catalog of digital value types.
A wide catalog makes customers happier
And you want happy customers! Soaring Inflation, looming recession, and sweeping layoffs remind organizations to remain frugal by cutting unnecessary spending. Keep your customers happy with an excellent customer experience and diverse payout options. Our simple API makes integrating our network into your (and your customers) existing HR stack easy and nearly invisible. Expanding your payout capabilities allows you to focus on and better serve existing customers with a huge selection of rewards.
New types of digital value are the key to standing out from your competition, growing your revenue, and scaling your employee rewards platforms
What types of digital value are available to your customers within the Runa network?
Runa's robust catalog to integrate on HR platform includes:
Digital gift cards
Allow customers to send eGift cards right from your platform. Serve international customers with gift cards from more than 1,300 brands in 18 currencies, 30 countries and 64 languages.
Donations to charities and nonprofits
Give your customers the choice to donate to more than 1.8 million US charities without leaving your platform.
Subscriptions
Subscriptions help your customers stay top of mind. A recurring gift or a subscription to a frequently used service can be a reminder of an excellent experience or a pleasant relationship. This is valuable to people who want to consistently surprise and delight recipients.
Visa Prepaid Cards
Customers love Visa prepaid cards because they can be spent almost everywhere. They can be used at virtually any physical or online store that accepts Visa. Additionally, Visa offers APIs that enable the integration of its prepaid card program into reward programs, allowing customers to redeem rewards as prepaid cards. Customers love Visa prepaid cards because they can be spent almost everywhere. They can be used at virtually any physical or online store that accepts Visa. With the help of Visa APIs, businesses can enhance their reward programs by offering prepaid cards as a reward option, providing customers with greater flexibility and choice.
Send value with Runa's API
Thanks to our dynamic, reliable API, integration is simpler than ever. With a single API, your platform can:
Customize payouts: Tailor payout options, choose denominations and add personalized messages.

Gain global reach: Pay out to users in more than 30 countries, 18 currencies and 64 languages.

Send mass payouts: Send unlimited payouts to multiple recipients instantly.
Get started with Runa's API today
Are you ready to expand your targets with the Runa API? Our convenient solution makes sending global payouts that customers want easier than ever.
Whether growing in geographic locations, offering more incentive rewards or something in between, you and your customers will love the convenience and flexibility of our network.
Want to learn how we can level up your platform? Arrange a free demo with our team today! Schedule a demo today.