The art of employee appreciation
Employee satisfaction is an important part of trying to build a better organization. If you're asking yourself how you can make your employees feel appreciated, even when trying to serve hundreds or thousands of individuals, read on for strategies and ideas for building your employee appreciation gift program.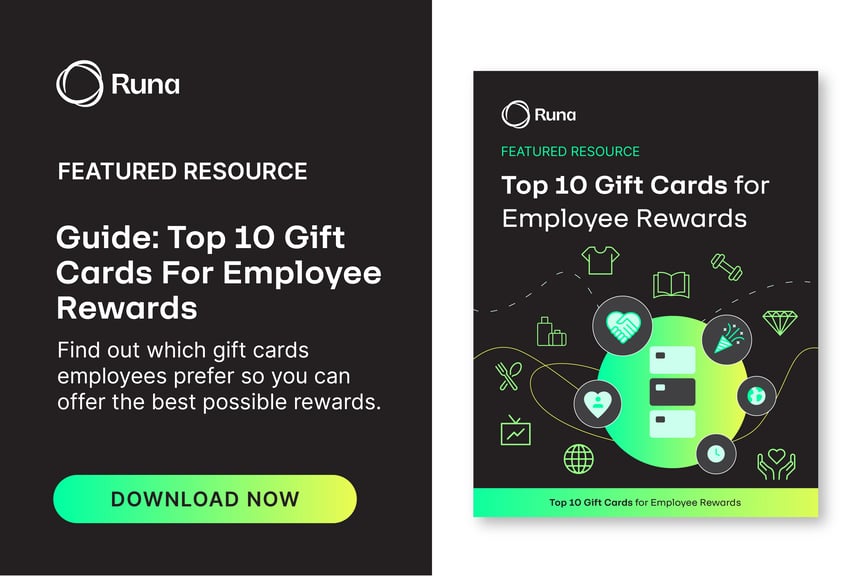 How to make your employees feel appreciated
For decades, salary and compensation were the primary tools organizations used to attach value to work. While employees could often expect a token of appreciation from their direct supervisor at the end of the year, the concept of investing in employee appreciation and recognition is now increasingly becoming a higher priority.
This shift toward a more holistic culture of employee recognition arises out of the trend toward remote work and the resulting increase in competition for a newly widening talent landscape. Globalization of the workforce has made it more critical than ever to engage with your employees and make them feel appreciated.
When surveyed, many employees identified areas outside of base salary and benefits when discussing their feelings about the employment relationship. Appreciation in the form of non-monetary recognition and monetary gifts is highly desirable. This could be an employee appreciation day, employee recognition day, a gift set, gift card, or other great corporate gift ideas that can boost employee satisfaction and company culture.
In line with this cultural shift, employee appreciation gift ideas and programs have become more popular and diverse. These programs aim for a high level of personalization that makes employees feel appreciated and seen as individuals within the workforce. This can boost employee morale, create better team-building experiences, and show your staff appreciation for doing a good job all year.
What makes a good employee appreciation gift
Employee appreciation gifts can be challenging, especially when trying to deliver a unique experience at scale. Ask almost any human resource or recruitment professional, and they will tell you, much like in sales and marketing, that the most critical factor in delivering a genuine experience is personalization.
In addition to a highly personalized employee gift, these traits make an employee appreciation gift genuinely stand out for the recipient:
Program variety: Everyone brings different strengths and proficiencies to their job role. While some bring high-performance metrics, others deliver results that are harder to quantify. To recognize the many facets of the contribution your workforce brings to the organization, have a variety of incentive and employee appreciation programs. This will ensure each recipient has a chance to experience that recognition.
While some programs may focus on performance metrics such as sales numbers or closed-one deals, others may focus on soft metrics like customer service experience numbers or net promoter score (NPS) metrics. Finding ways to appreciate every department or individual for the unique mix of talents they bring to the table will make everyone feel appreciated.
Inclusivity: Delivering a unique and genuine experience means recognizing the diverse background and personal preferences of your employee base. Therefore, offering an employee reward that appeals to the widest variety of individuals can help make a more significant impact with your programs. One way to ensure inclusivity is to curate reward options that help every individual find something that works for them.
Generosity: Sometimes, it's essential to deliver an experience that takes your recipient by surprise. Don't be afraid to structure programs to have a profound impact on your employee. When building first-rate employee appreciation programs, find ways to maximize ROI and deliver the most impact directly to the recipient - rather than overhead. Create a budget that truly reflects the value each employee brings to the organization. If you wow your employees, they will return the favor in performance and dedication.
Scalability: Whatever programs or gifts you choose, be sure the options you provide can be scaled as your organization grows and you develop new initiatives. Find options to keep personalization high as your headcount grows and your program offerings increase in complexity.
Creativity: While it's easy to deliver thousands of digital gifts at once, employing some creativity and striving for higher engagement with your programs will deliver better results while turning your employees into brand ambassadors. Appreciation is a gift that keeps on giving-for the recipient and the organization. Often companies with creative and generous employee appreciation programs get favorable PR and brand loyalty for their efforts. Be creative and give your employees and target audience something to talk about!
15 employee appreciation gift ideas
There are many occasions where organizations can forge a personal connection with employees and make them feel appreciated both as contributors and as individuals. Here are some employee appreciation idea options to help build your next program into something your employees will truly enjoy.
Virtual team meetings: "Getting everyone together" took on a different meaning during and after the pandemic. Create cohesive experiences virtually by providing participants with the elements of an employee appreciation day directly to their doorstep. Food, cocktails and mocktails, coffee tasting supplies, or build-it-yourself food kits can get all your remote employees into the spirit even through Zoom.
Group experiences: For local folks, create team-building opportunities that are enjoyable and creative. Think local meetups at exciting venues, restaurants, sporting events, or cultural gatherings. For distributed teams, create regional meetups that allow them to get together with the employees in their communities. This is another excellent way to use an employee appreciation day to show your staff their value.
End of year gifts: Celebrate the hard work over the last 12 months with a gift that reflects appreciation and well-wishes. End-of-year gifts can be general (everyone gets the same thing), or you can personalize the experience through curation catalogs or by delivering a gift based on personal interests.
Seasonal treats: Sending a gift box of sweets during the holidays is a great way to show employees appreciation. Be sure to broaden your holiday offering to recognize a variety of celebrations and special times of the year. Sending globally-inspired gifts can bring variety to your programs while shining a light on the many cultures and life experiences your employees embody.
End of project goodies: Did you just get through a complex project or complete a sprint? Recognize the accomplishment with unique employee appreciation gifts to wrap up the experience on a positive note. These small tokens of appreciation, when paired with public recognition, can drive home the idea that employee contributions make a valued difference in business outcomes.
Performance gifts: When the company experiences success, it is a result of the hard work of everyone involved. Celebrating a company performance achievement by sending a celebratory gift to your employees lets them know their hard work is recognized and appreciated.
Curated swag: Showing company spirit with some branded swag is an excellent way to connect with your staff and provide them with something enjoyable. For distributed or remote teams, facilitating this through a gift credit or a platform can make the process easier to administer.
Years of service gifts: Show appreciation for an employee's long-term commitment by acknowledging years of service with a gift. These gifts can be personalized to the individual, with a monetary value representative of their tenure at the company.
Employee referral gift: Show thanks to an employee who shares opportunities with their network. A gift for a successful placement reinforces referrals and recognizes the importance of referral to the organization.
Company welcome gift: Get a new employee relationship off on the right foot by welcoming them with a gift. These gifts recognize the trust an employee places in the company by signing on. It lets them know they've landed in the best place.
Baby and adoption gifts: When an employee welcomes a new member to their family, sending well-wishes and thoughtful gifts can signal that they are a valued and important member of the organization. Recognizing and celebrating personal life events can make employees feel appreciated beyond their contributions to the company.
Housewarming gift: Buying a house is a significant moment in anyone's life. Celebrate this milestone with a gift to help your employee settle into their new place. This touchpoint shows personal connection and makes employees feel appreciated and seen.
Milestone recognition: When your employee achieves a professional milestone such as an advanced degree or certification, it benefits both the individual and the company. Show your appreciation of their hard work and dedication to advancement with a gift to celebrate the achievement.
Digital wellness programs: Caring for your employee's well-being is a form of appreciation every company should embrace. Support their health and wellness by offering programs that help them stay healthy, balanced, and sustained at work and home.
Music subscriptions: Sometimes, it's the little things that show employees you appreciate and support them. A music subscription to a streaming service gives employees an essential tool for their workday while showing you appreciate them and want to support things that make the workday better.
Why gift cards make a great gift for employee appreciation
Why are gift cards great for showing employee appreciation? These top 7 reasons tell the story:
Offer a high level of personalization: Sometimes, offering a personalized experience becomes more challenging when sending hundreds or thousands of cards. Gift cards make it possible to send the perfect gift to every employee while maintaining a high level of personal engagement with your employee recognition gifts.
Provide excellent ROI: Sending an appreciation gift box or a physical gift involves spending money on overhead such as packaging the gift basket, shipping out physical gifts, and managing and tracking the delivery to every staff member. Digital gift cards are a great gift when you want to send at scale, as they require no extra effort and very little overhead. That way, the most program money goes directly to your recipient.
Solve global delivery challenges: Sending gifts internationally can be a challenge. By using gift cards to send employee recognition gifts worldwide, you can also avoid many issues of reaching everyone. For this reason, it's a good idea to find a gift card platform with plenty of global options, so you can send a great gift to every coworker and boss, no matter where they live.
Create personalized experiences: A personalized gift will always have the most impact on employee satisfaction and employee retention. Using gift cards in your program allows you to send everyone the perfect gift and create a genuine connection with each, even if you're sending thousands of gifts simultaneously.
Suit a variety of programs: Gift cards offer a wide degree of flexibility for every employee recognition program. When sending employee appreciation gifts, gifts to reduce employee turnover, or simply tokens of appreciation to boost employee morale, you can design a personalized gift experience that perfectly suits your program and its desired outcomes.
Drive data-driven decision-making: Using a gift card program has the added benefit of centralizing all the data for future use. By building a program using gift card software, You can see what gift cards are most appealing, the average time to fulfillment and selection, and use the personal information inside your ERM programs to improve your gift card offerings and curated catalogs.
Present scalable solutions: Wherever your organization is on its employee appreciation journey, gift cards offer a way to meet you where you are and help you scale in the future. A dynamic gift card program grows with your programs, helping you send employee recognition gifts, and boost employee engagement even in high-growth organizations.
Where can I get employee appreciation gifts in bulk?
Using a gift card platform to administer your employee engagement programs is an excellent way to make hardworking employees feel appreciated while operating programs of any size efficiently.
Using a gift card program to send digital gifts such as staff appreciation gifts can help you save time and money. The software platforms allow you to buy gift cards in bulk at face value or even lower. The best gift card platforms form extensive relationships with card merchants and retailers to provide discounts of up to 25% on card purchases.
While it's possible to buy gift cards in bulk directly through a single retailer, often this requires purchasing physical gift cards and administering a burdensome shipping program. For digital retailers, the delivery may be constrained by technology or require a developer to write code to interact with an API.
A gift card platform gives you all the benefits of a digital retailer for buying in bulk and a host of other features that make using a platform an excellent investment.
Why Choose Runa?
The Runa platform offers all the features you should expect in a gift card platform, allowing you to buy gift cards and bulk for your staff appreciation gifts and other programs. Using Runa, you can send any gift idea easily across your organization.
In addition to the many standard features offered by gift card platforms, Runa also offers excellent reporting and balance recapture features to help you make the most of your programs and budget.
Ready to add gift cards to your employee appreciation program? Let us show you how, with a free demo.