Want to know what your employees really want for the holidays? Gift cards! They are the most-requested gift for the 15th year in a row, according to the National Retail Federation.
Gift cards let employees pick a gift they'll truly love. Say goodbye to the stress of finding one gift for your entire company and hello to digital gift cards that you can purchase and send instantly. Gifts cards are celebratory! Your employees will use them for guilt-free, fun, indulgent, memorable purchases. Allow your team to choose their own adventure. Part of the fun is deciding how to spend the gift card.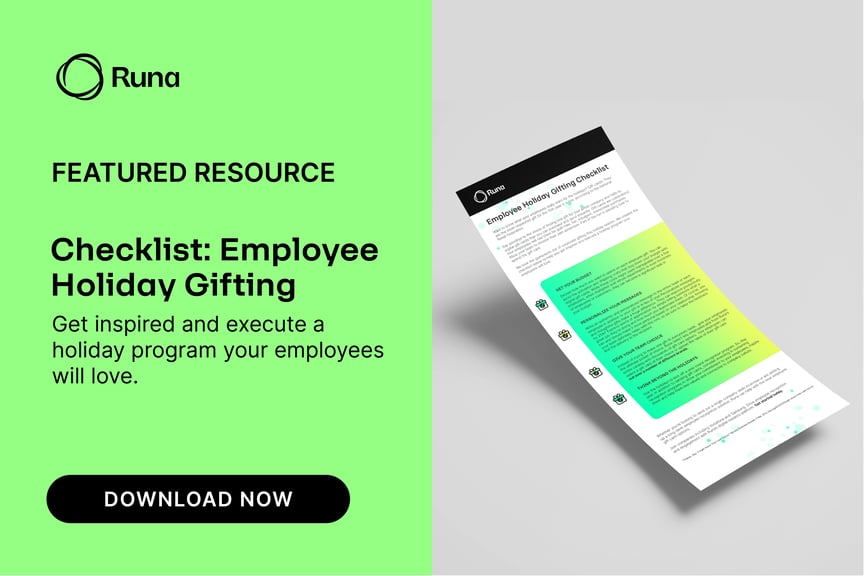 We took the guesswork out of choosing the perfect gift card this holiday season. We asked our team to help us curate thoughtful and intentional options to celebrate any occasion. Use the list below to get inspired.
If none of these ideas seem quite right, you can give your employees the ultimate power of choice with Runa Select, which lets employees pick from Runa's entire catalog with thousands of options. The best part? Your employees can select a gift card of their choice or spread the value of their gift card out over a number of different brands.
Airbnb Gift Card
"An Airbnb gift card would be amazing to receive. Who doesn't love a little trip to look forward to!" – Becky, Talent Coordinator
An Airbnb gift card gives your employees a memorable escape. Give this gift card to any employee itching for a quick getaway or even a longer holiday, if you're feeling particularly generous. Airbnb offers a huge selection of properties around the globe, so your employees will enjoy some amazing experiences.
Visa Prepaid Card
"[I'd love a] Visa gift card. I would probably spend a it on something for myself, since I mostly spend on my kids" – Caylee, Business Development Representative Visa prepaid cards are the perfect gift for someone to treat themselves guilt-free. The all-purpose card can typically be used anywhere Visa is accepted—so your employees can splurge on their hearts' desire. A digital Visa prepaid card opens a world of options.
Amazon Gift Card
"For the upcoming holiday season, I would use [an Amazon gift card] to buy presents for my family." – Dinmash, Software Engineer
The best thing about an Amazon gift card is that employees can spend it on nearly anything they want. With more than 350 million products, they're bound to find something great on Amazon. From practical necessities to unique finds, an Amazon gift card is ideal for corporate gifting.
Virgin Experience Gift Card
"I would love a Virgin Experience gift card to plan a fun getaway trip over Christmas" – Joana, Marketing Manager
A Virgin Experience gift card is for your most adventurous employees. Recipients can choose to take to the skies by booking a flight or feel the thrill with a one-of-a-kind tour. Give amazing, memorable moments to your team this holiday season with a Virgin Experience gift card.
Williams Sonoma Gift Card
"I would use a Williams Sonoma gift card to prepare my kitchen to make meals with family and friends throughout the season" – Stefany, Marketing Designer
Williams Sonoma is known for their expertly crafted and curated products for your home and kitchen, so it's the perfect gift for employees nesting and preparing to host this holiday season. If you have a person like Stefany at your company, who's always cooking up something good, send them a Williams Sonoma gift card. It's perfect for anyone who appreciates a well-decorated home and gourmet food.
Starbucks Gift Card
"I want a Starbucks gift card for one reason: chestnut praline lattes" – Rita, Content Marketing Manager
Nothing says the holidays like a warm festive drink from Starbucks. But the whipped cream and syrupy treats can feel like an indulgence. Give a Starbucks gift card to employees so they can treat themselves guilt free and power through the day during the cooler winter months. Win-win.
Nike Gift Card
"My family and I love nothing better than a day at the beach. We live in Cornwall in the UK, not the tropics, so wetsuits would be the very best present I could get for the family." – Tim, Head of Account Management
From wet suits to running shoes, a Nike gift card is perfect for the employee on the move. Give the athletes on your teams more movement, more adventure and more gear. Just do it with a Nike gift card.
As you can see, gift cards can give everyone on your team exactly what they want. They are an easy, stress free, and cost-effective solution for corporate gifting. At Runa, we've made the process of sending gift cards at scale simple. Our user-friendly platform provides seamless, instant access to the gift cards on your employees' wish lists.
Want to learn more about Runa and how to send gift cards to recognize your employees? Get in touch to arrange a free demo today!