Competition is fierce in the internet service provider's market.
At 82% broadband penetration, new connections are far and few. The business challenge is to get people to switch from their current providers.
Internet providers need to find new ways to differentiate their offering and product positioning in order to acquire customers. Yet, most broadband marketing looks identical!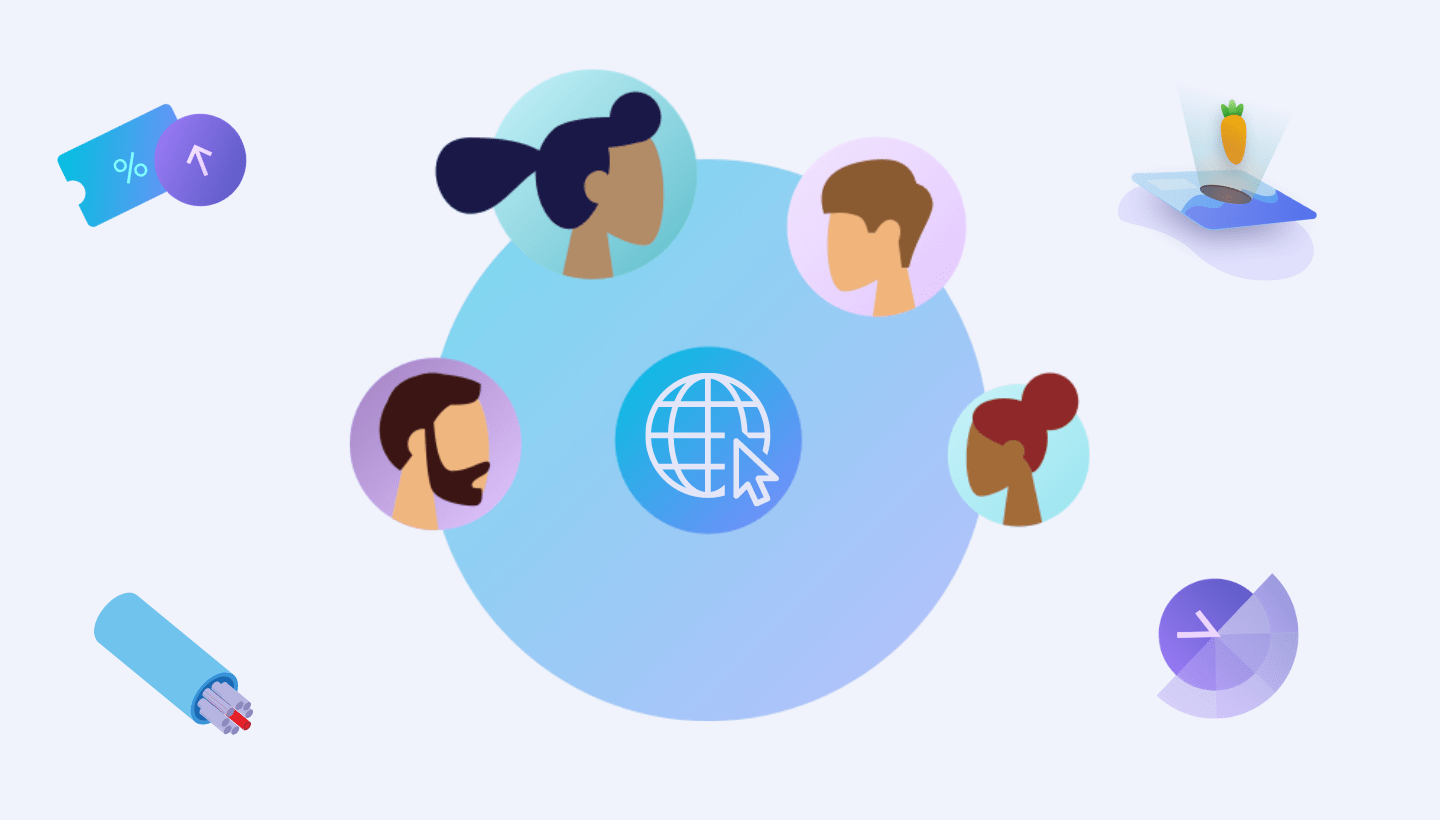 We analyzed the marketing positioning of 47 different internet service providers and looked for the common threads in their positioning and identified the key differentiating factors. The article is divided into three sections:
The goal is to help you refresh your marketing offers and product positioning so that you can stand out from the competition and effectively acquire customers at scale.
---
In a hurry? Here are the key takeaways:
Messaging centered around 'speed, reliability, free routers, customer support, $50 plans' is ubiquitous – it won't help you differentiate your offering.

Customers are willing to pay a higher monthly rate for a differentiated offer. Upfront incentives and rewards effectively boost new customer acquisition

Promoting incentives and refreshing offers across multiple channels is the key to winning: Websites, paid ads, email, social, chatbots, referral schemes.
---
Market Analysis – Common value propositions
Internet services have become commoditized – they all look the same. If you want to escape price competition, you'll have to give prospects a strong value proposition.
A strong value proposition will clearly explain how the product fills a need and explain why the offer is better than similar products on the market.
Most providers do well on the first point but their messaging doesn't help prospects differentiate them from their competitors.
Here's a table showing the most the variety of value propositions out there: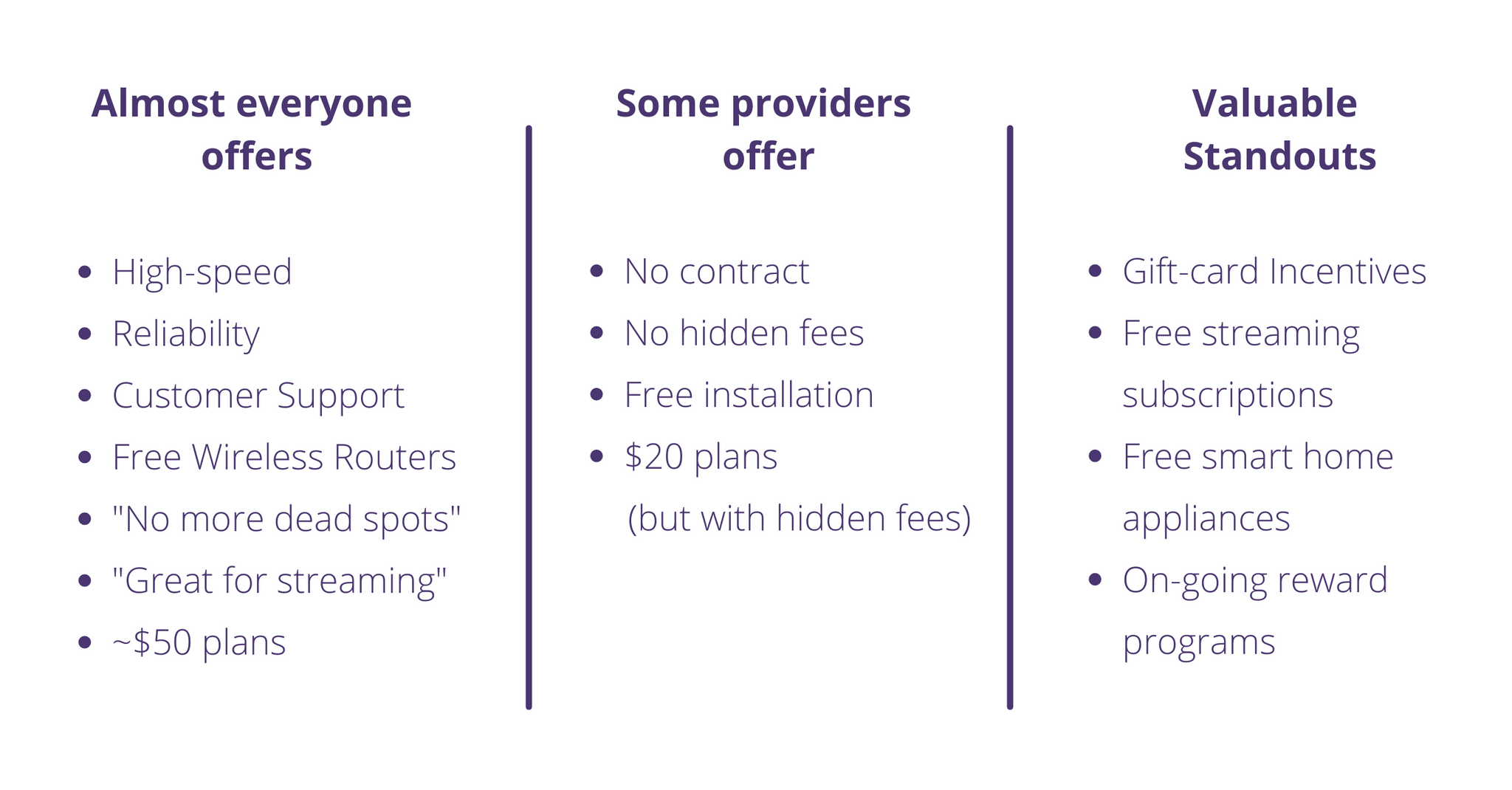 Here's the evidence:
AT&T: Speed, Reliability, No contract, Customer satisfaction, $45/month plan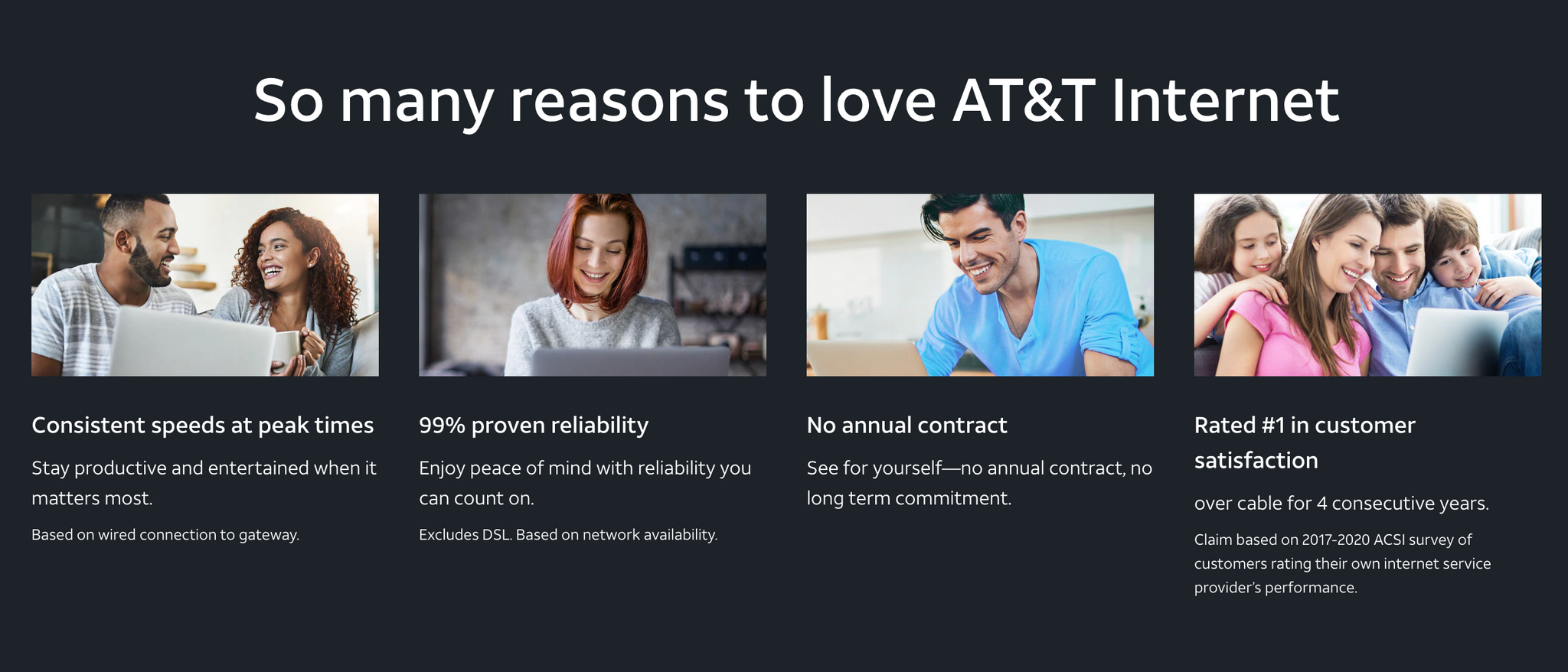 US Cellular: Speed, Reliability, $50/month plan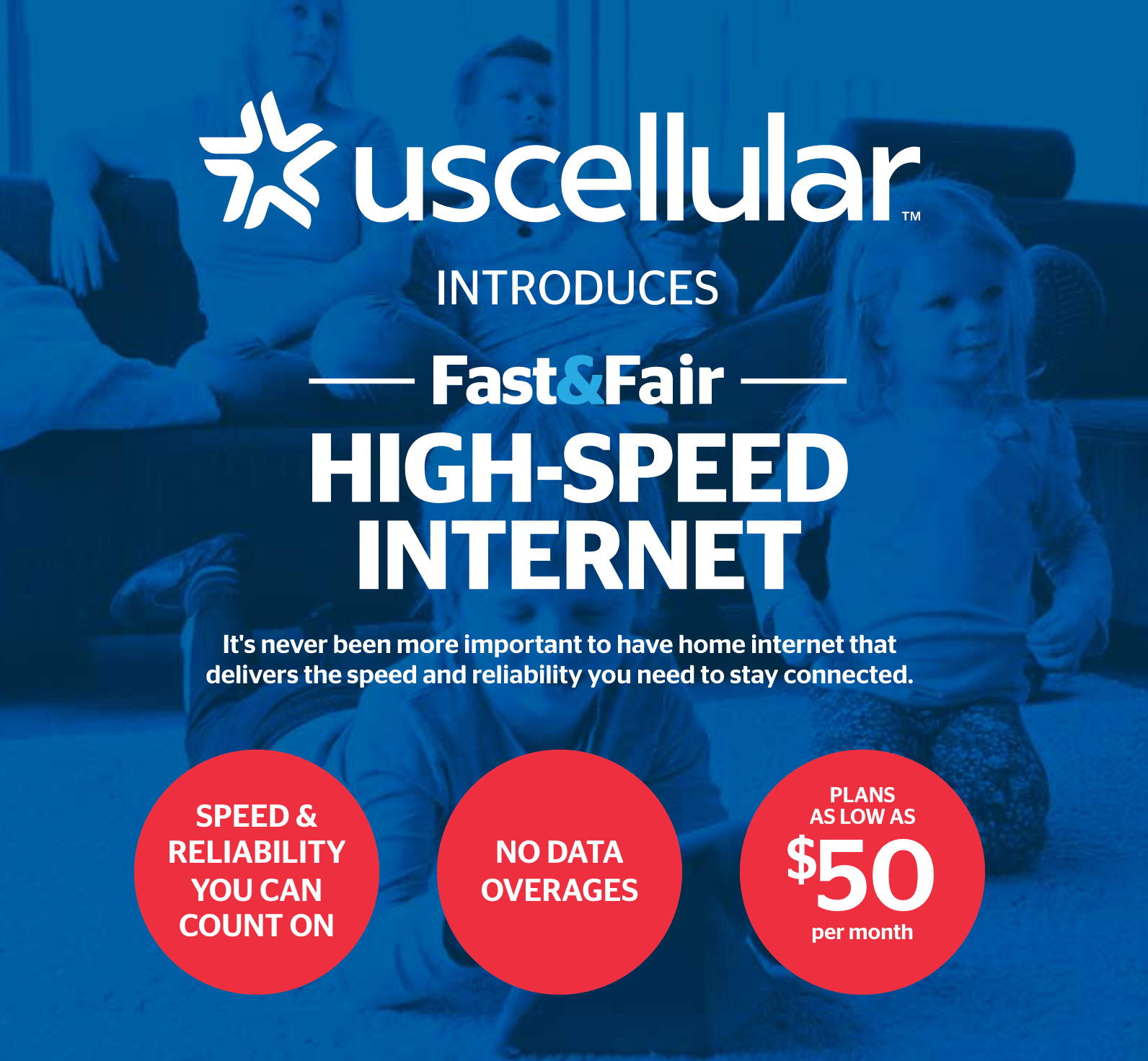 T-mobile: Fast, Reliable, Customer Support, $50/month plan

This is true for regional service providers too, not just with the Telco giants:
Greenlight Networks: Fast, No Contract, Service, $50/month plan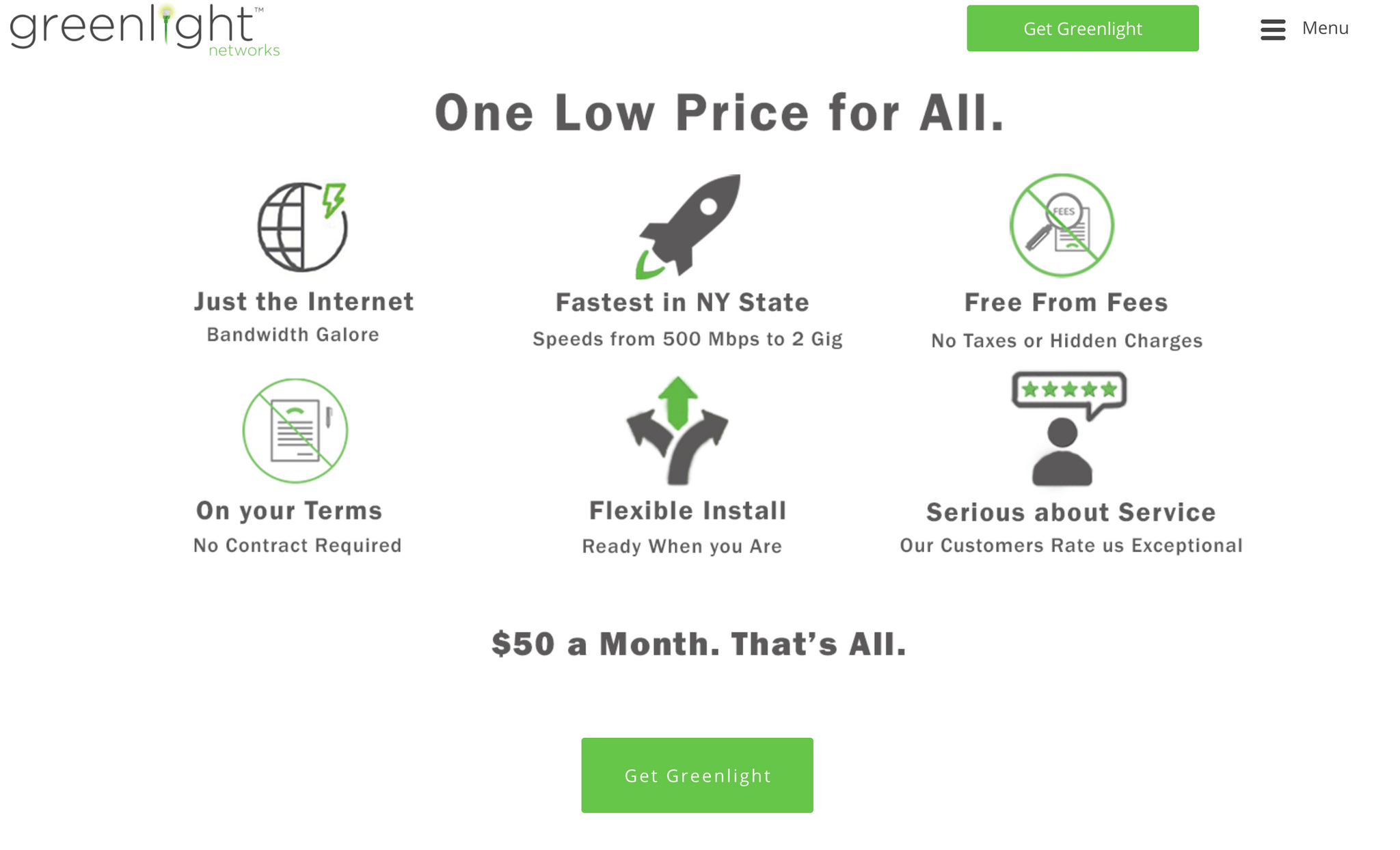 Starry: Fast, Reliable, no contracts, $50/month plan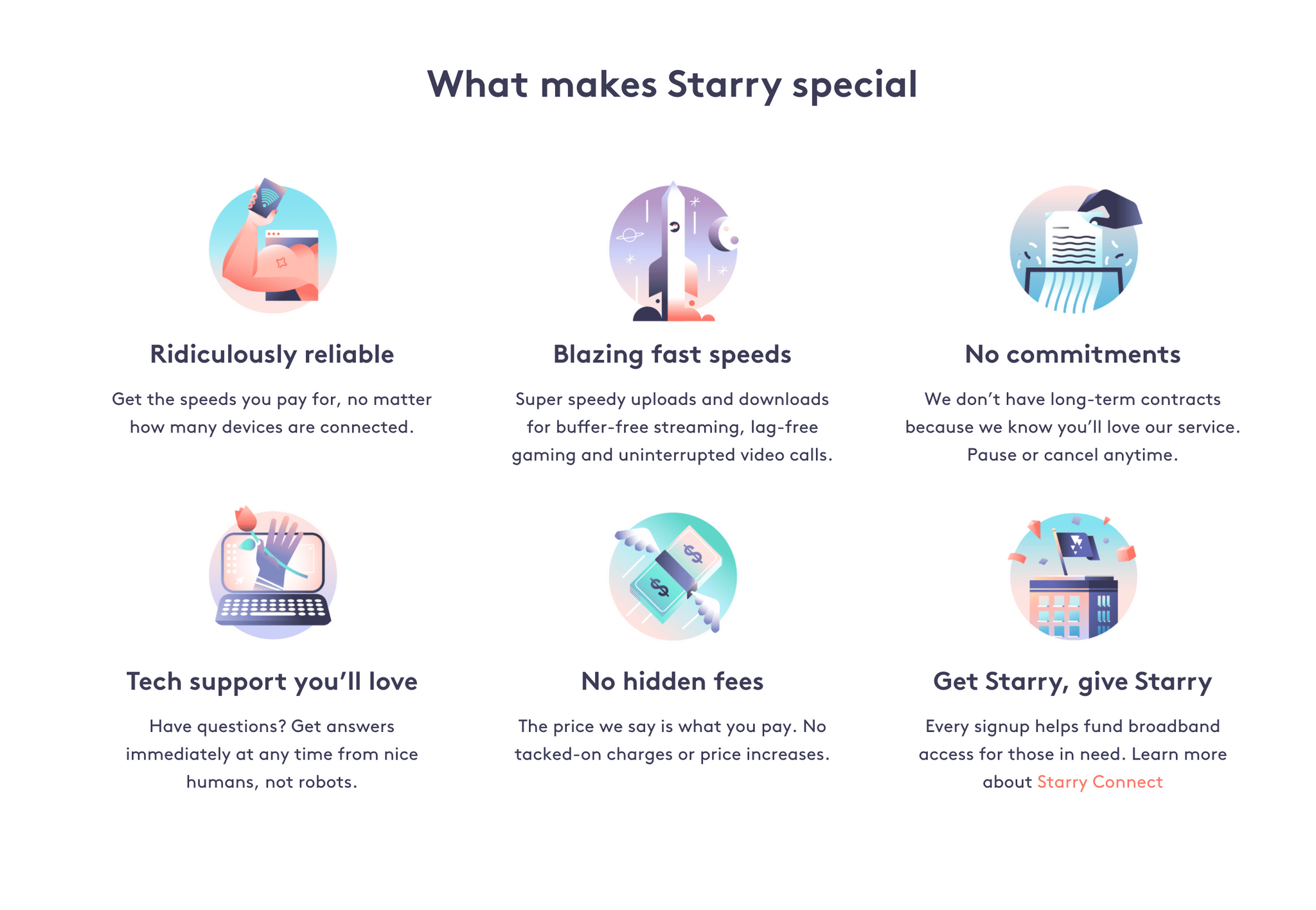 The evidence is ubiquitous – most internet providers are hammering home the same value propositions. They are focussing on the features that customers take for granted. Sure, they speak to customer pain points, however, they don't help differentiate their offer from the competition.
"Speed, Reliability, Service" are not differentiating points – everyone claims to offer them. This messaging is important but it doesn't help prospective customers make their decision on which internet provider to choose.
Pricing-wise, ~$50 plans are most common. Sure, there are a few providers who have lower prices, but often those come with hidden installation and equipment fees.
---


How to differentiate your offer
There are two target audiences to consider here – active switchers and passive switchers.
An active switcher is someone who is fed up with their current supplier perhaps for speed/ reliability reasons and is looking for a superior solution.
A passive switcher is someone who doesn't have an immediate concern with their internet provider but is open to switching for a better deal and proposition.
In developing your marketing strategy and product offer, you must consider both audiences.
Here are 5 innovative examples of internet service providers differentiating their offer and incentivising customers to switch to their service:
Example 1 : Verizon – Rewards all the way
Verizon is not competing on price, their home internet offering starts at $79pm. That's significantly higher than most other providers.
Their value proposition is centred around two key features:
Fiber-optic: Instead of talking about speed in an abstract way, they focus on the technology. This is contrary to traditional marketing theory as they are talking about the feature rather than the benefit – but it works! In a competitive landscape where everyone mentions 'speed', they have given the prospect a reason to believe they are faster.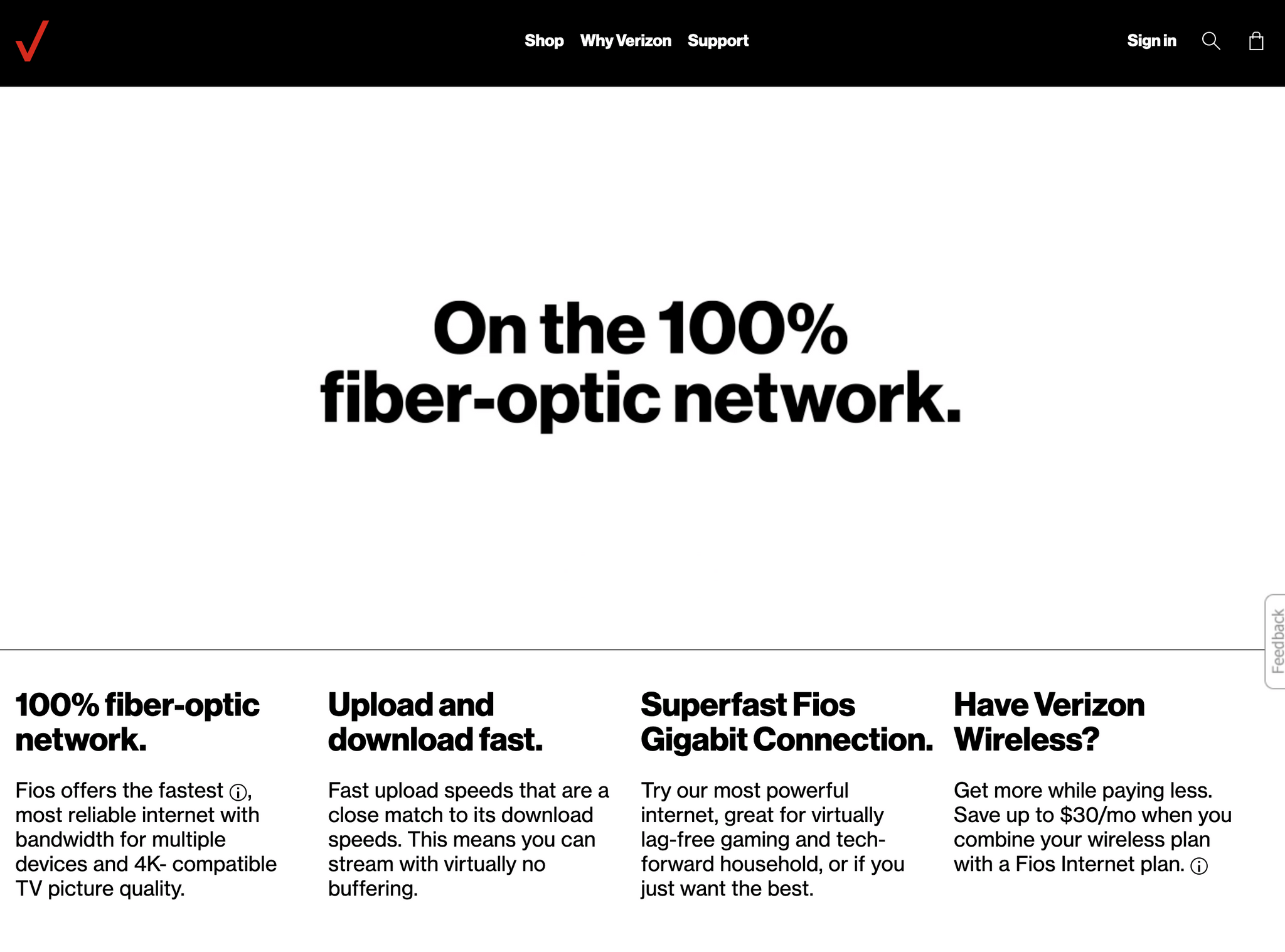 Outstanding rewards and incentives: Verizon recognizes that customers are willing to pay a higher monthly rate (60% higher than the average) for an upfront reward. People want instant gratification, and Verizon gives them just that.

Amazon Prime Membership

Echo dot smart speaker

$150 gift card

Ongoing Verizon Up rewards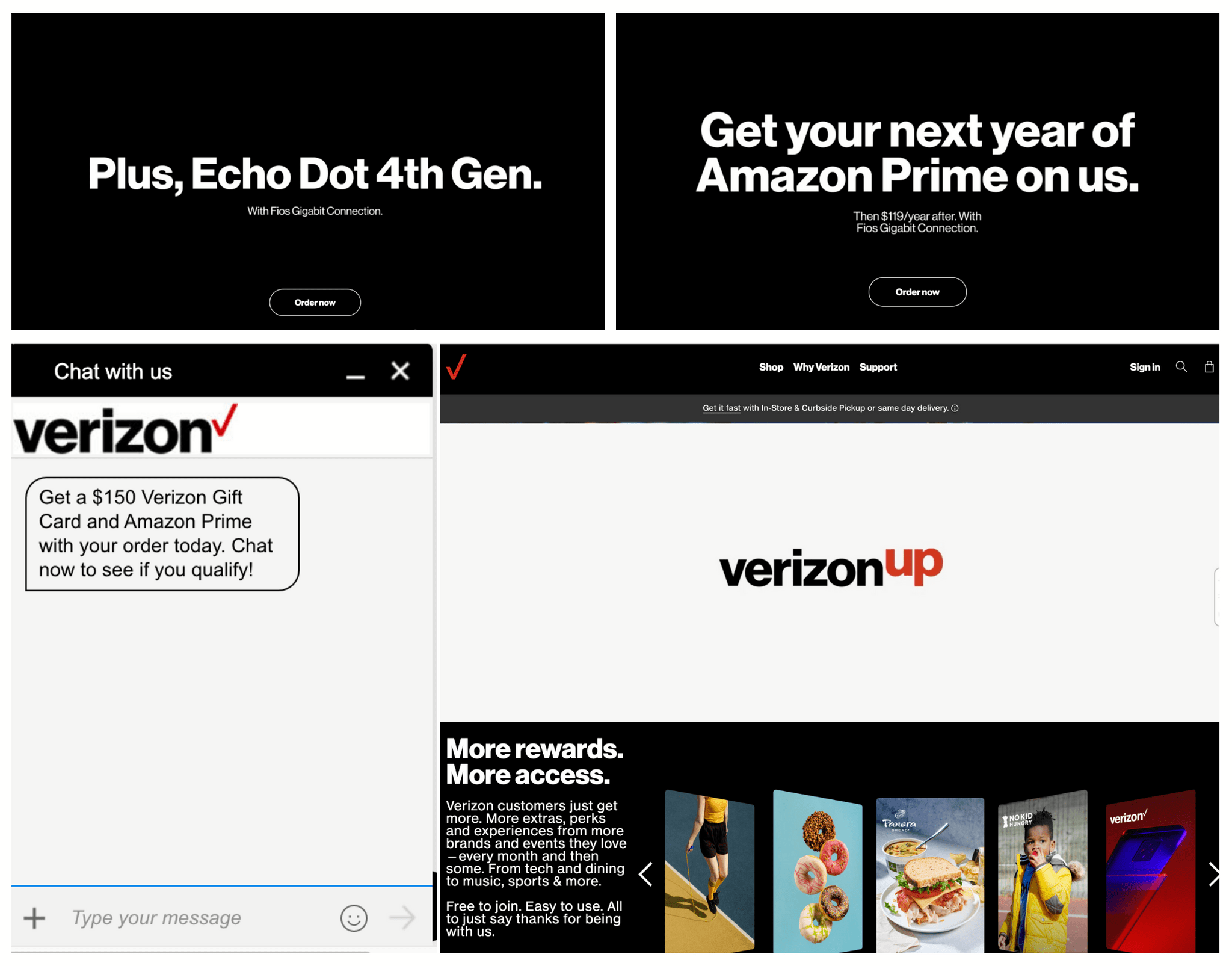 The ongoing rewards program provides value throughout the customer lifecycle and keeps their customers from churning. Learn more about how you can improve the overall customer experience with digital incentives here.
Example 2: Xfinity – Upfront $150 VISA card + Streaming device
Xfinity also has a premium pricing structure. Their proposition is clear – a $150 prepaid incentive for a 24-month agreement at $79 pm.
The prepaid card is a simple yet highly effective incentive with 'passive switchers' – it gives the customer flexibility on where they can spend it, and can easily be fulfilled digitally.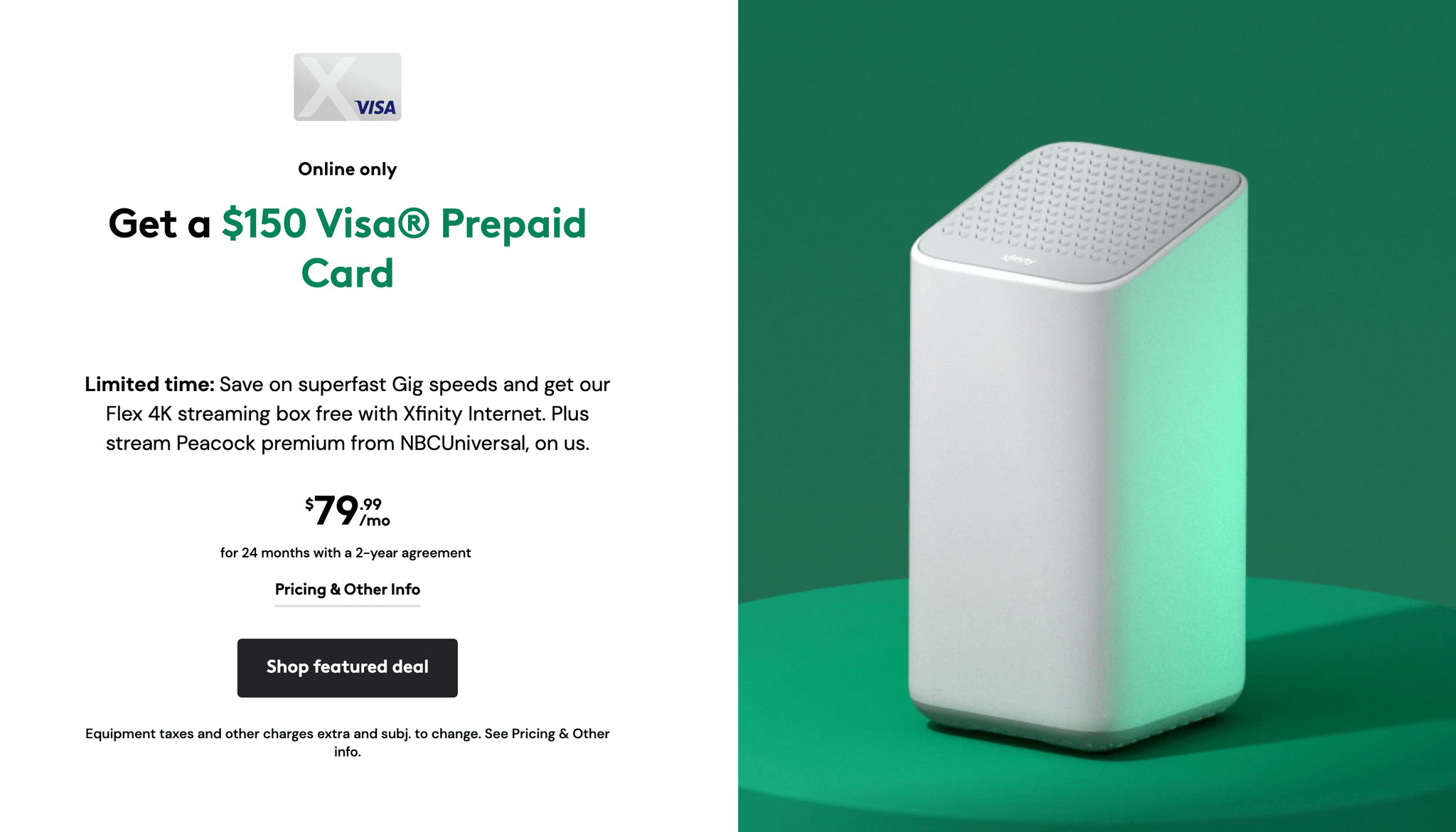 Example 3: Century Link – Price for life
This proposition will speak strongly to 'active switchers' who have realized that their internet provider has hiked their monthly rate. It is a unique proposition targeting those who plan ahead and don't want to have to deal with their internet ever again.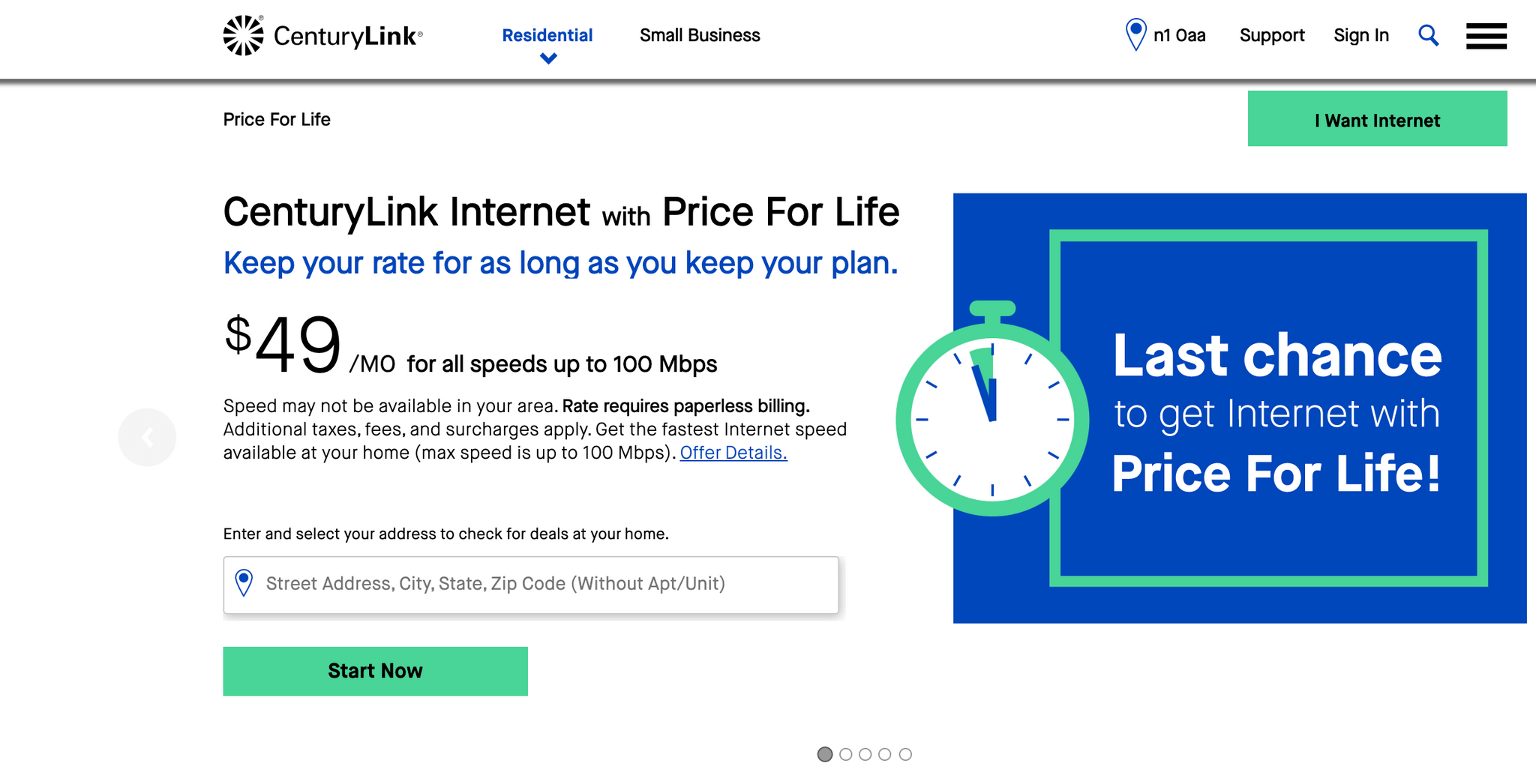 Example 4: Atlantic Broadband – Segmentation and thematic messaging
Atlantic broadband's central proposition isn't particularly unique, however they've segmented their audience in an interesting way:
Remote learning

Streaming and entertainment

Online gaming
By calling out these use cases and providing greater customizability to their plans, they are carving out a niche in the market. The gaming segment is particularly interesting as they do have a distinct need for higher speeds – a need for which they are likely to upgrade to a premium plan.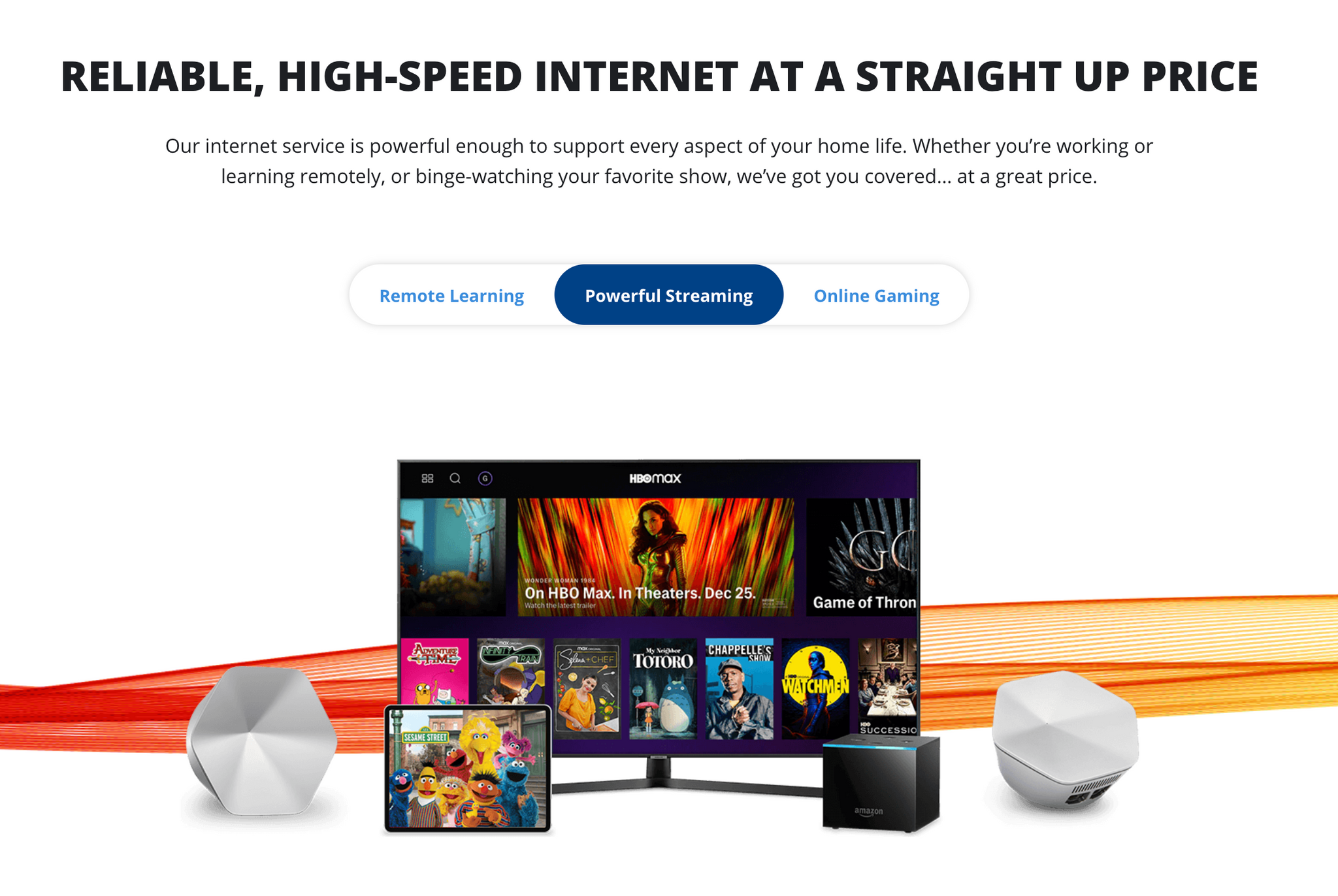 Example 5: Wow! – Rewards-as-a-feature & Referral programs
Wow! is huge on incentives. Their front page offer 'activates' prospects who were otherwise passive. A discounted headline price of $29.99 pm (for a 200Mbps connection) paired with a $200 VISA card is definitely eye-grabbing. They certainly live by their brand name!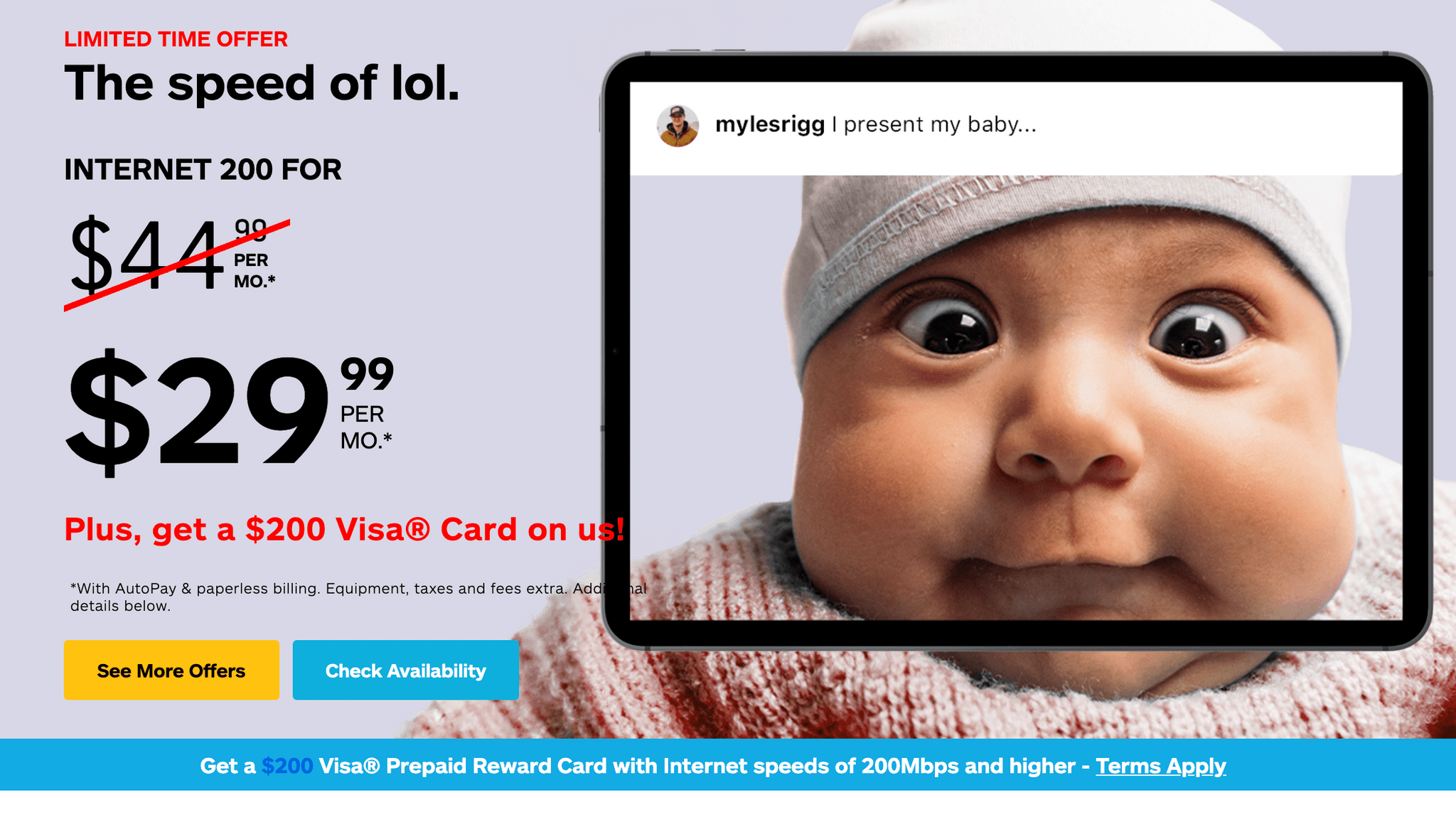 Their pricing page is unique as it mentions the VISA prepaid card as if it were a product feature. Price is no longer the newest product feature – rewards are! This pricing page also upsells customers on the headline offer of $29.99 pm.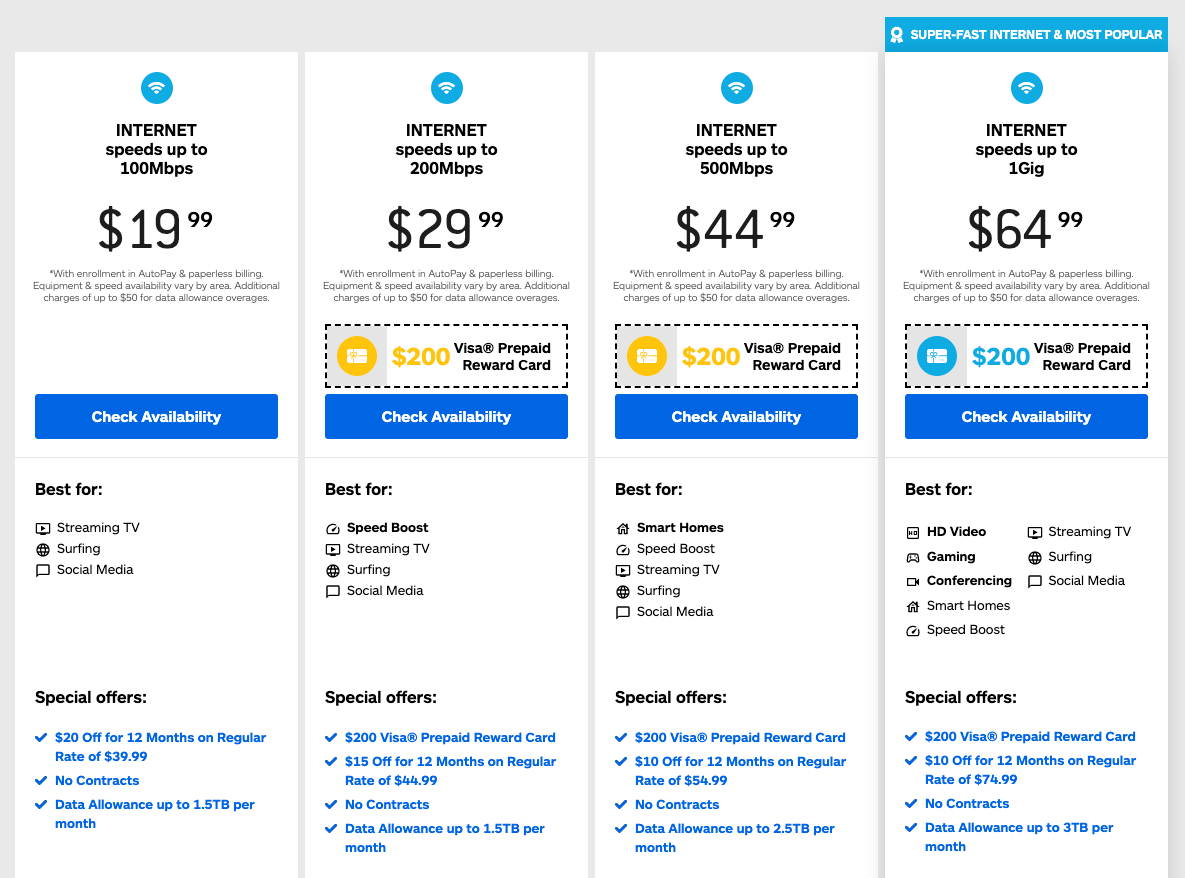 As mentioned above, at the point of purchase, the prospect isn't in a position to accurately compare internet service speed and reliability. So how can providers with a superior service actually capitalize on that?
One way is to create a lucrative refer-a-friend program. Turn your customers into brand ambassadors. Wow! does this particularly well by offering a $25 reward and making it easy for anyone to make a referral.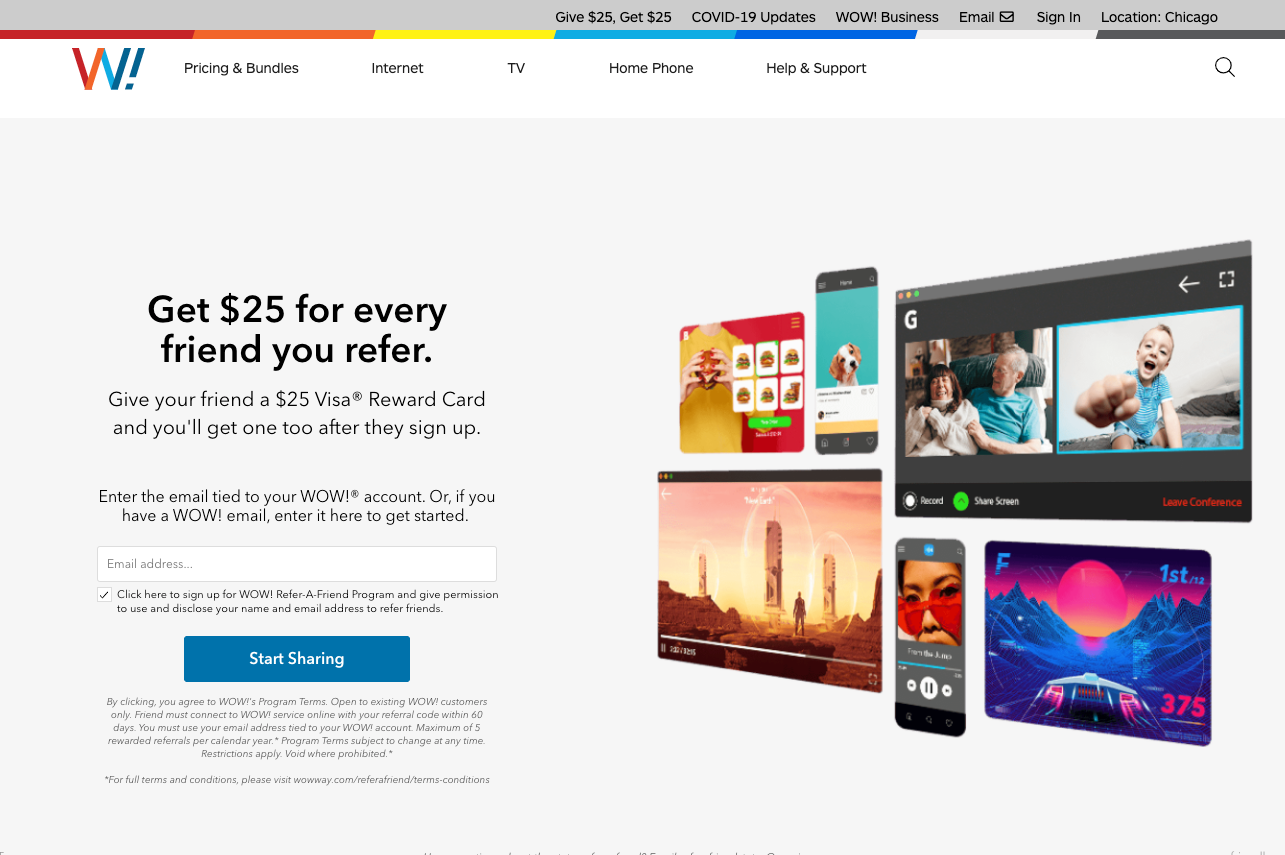 ---


How to get started with incentive marketing
Incentives are straight forward – they give your prospects a clear reason to sign up with you.
So, instead of spending your marketing budget on increasingly technical channels, you can pass on that benefit to the customer in the form of discounts, free gifts, or digital gift cards.
What are the hallmarks of a good incentive?
Valuable, relevant, and memorable – must trigger an emotive response
Easy to claim – instant gratification is key
Cost effective – especially at scale
Trackable – to measure the effectiveness and optimize ROI
To learn the best practices on how to run incentive marketing campaigns, and promote your offers across multiple channels, download our comprehensive guide: Incentive Marketing: A practical guide to customer acquisition.
Digital incentives and rewards — plug and play
The barriers to using digital incentives and rewards have disappeared. With Runa, you can access the world's largest catalog of digital rewards and plug them right into your acquisition campaigns.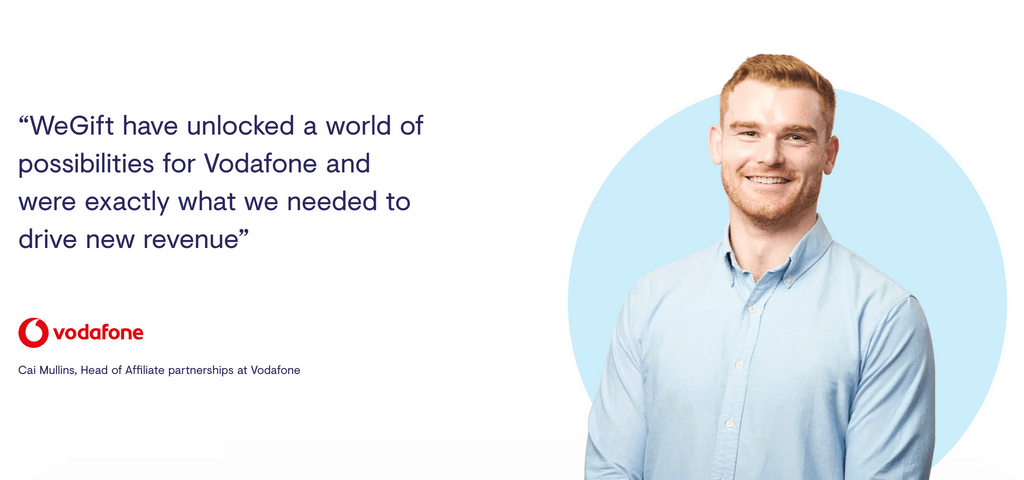 Runa has made giant leaps in improving the overall gift card experience, all while streamlining the ordering and fulfilment process and significantly cutting costs. It enables you to:
Deliver a unique gift card experience on multiple devices

Access 1,000+ branded incentives

Streamline your processes
Companies like Vodafone have made the switch to us for their incentive needs with great success – higher conversions, lower CPAs, better NPS scores.
Get started with Runa – book a demo here