An explanation of how to buy gift cards for employees
Gift cards are becoming increasingly popular as a means of employee recognition. Digital gift cards, also known as eGift cards, serve as great incentives and rewards for employees.
Before we jump into things, we should mention that there are two primary ways that companies buy gift cards for employees.
The first option - let's call it the "old fashioned way" - is to purchase individual gift cards directly from brands. For most companies, this means having someone on the HR team go to Amazon, UberEats, or Walmart and purchase gift cards one by one from the brand whether online or in person.
Sounds like a pain, right? Thankfully, there's a better way.
The other option is to use gift card management software, like Runa. By using a platform to distribute gift cards to employees, you can significantly reduce the time involved in managing the process and save money while doing so.
With Runa, you can simply upload a list of email addresses and send gift cards to employees in bulk.
If you're interested in learning more about how Runa makes it easy to send gift cards at scale, get a personalized demo to find out if it's the right fit for you.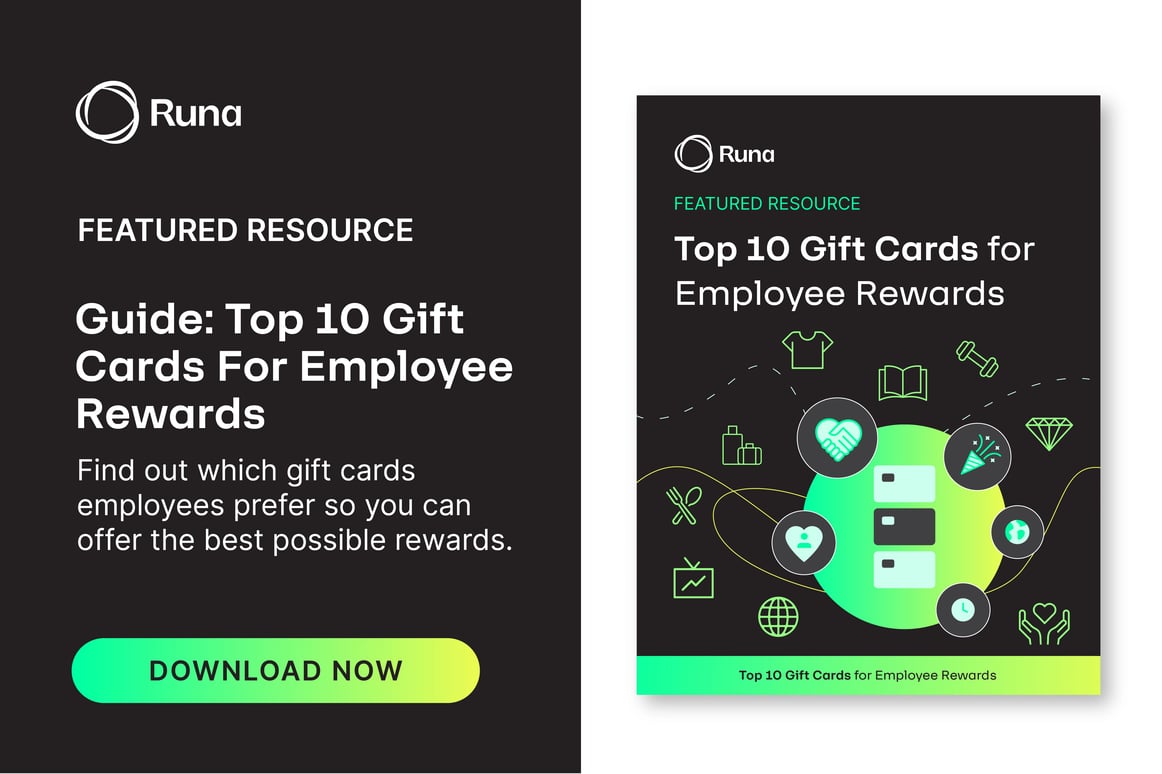 Benefits of Buying Gift Cards for Your Employees
There are numerous benefits of buying gift cards for your employees. As far as employee rewards go, they are not only well-received, but also easy to distribute thanks to intuitive software like Runa. When employees receive random amounts of cash, it can seem cold and less like a gift. But digital gift cards give employees a good excuse to splurge a little and treat themselves to something nice. Gift cards are a fun reward that (unlike cash) can't be used anytime or anywhere, so they create a sense of urgency for the recipients to purchase something sooner than later.
It's worth noting that gift certificates and cards, like cash rewards, are considered taxable income in the United States and thus impact income tax. But while they serve as a cash equivalent, digital gift cards are much less of a hassle than physical gifts and printed gift certificates.
Why is employee appreciation so important for a business?
Anyone who's worked in human resources knows that high morale at work correlates with increased employee retention, less absenteeism, and more productivity.
How can you incentivize and reward employees in a way that is personalized using digital gift cards?
As an employer, you can be thoughtful about how you structure your gift card program so that it aligns with your company culture. For example, you might offer all employees a card to the same brand, or you could allow them to choose their preferred retailer. Or you might choose a category - such as fitness - if you are promoting a health and wellness campaign for employees.
It's worth mentioning that Runa's gift card management software offers flexibility to recipients. When you send gift cards through Runa, your employees can choose from any of the 700+ brands we partner with. Or you can narrow it down to a select few. Want to hear more about how it works? Get a demo of Runa and we'll tell you all about it.
Gift cards can range in dollar value, so you can give smaller gift cards for regular perks while reserving larger dollar amounts for special rewards, such as employee of the month awards and other types of special recognition.
Why are gift cards great for employee morale?
Gift cards are a perfect way to offer a thank you to employees. Employees are more likely to perform at a higher level better when they are consistently recognized and rewarded by their employer. Not only will they be more loyal to your company, but chances are they will also be more motivated to make an impact. Since digital gift card programs are easy to implement, they won't add a huge burden to your business. The positive benefits companies receive from happier employees far outweigh any expenditures on gift cards.
Top Occasions to Buy Gift Cards for Employees
Employee appreciation is something that should be baked into your corporate culture. Without regular employee recognition, your staff is more likely to feel frustrated, under-appreciated, and worn out.
Employee gift cards can go a long way for the most hardworking people at your company. Even a seemingly minor perk can help an employee become more enthusiastic showing up to do their job every day.
How often should you show appreciation to staff?
In order to keep employee morale high, celebrate wins on a regular basis. Using incentives shouldn't just be a once-in-a-while type of thing. Consistent is key - employee rewards given on a periodic basis (say, monthly) typically result in better employee morale, productivity, and retention. Many HR teams reward employees not just for their results, but for their positive behaviors.
When should you reward employees with a digital gift card?
In the past, physical gift cards or gift certificates were often given out as non-cash benefits to employees. The problem with physical cards and certificates is that they can be easily lost or stolen, and they require more work on the part of the HR team to purchase and distribute. Nowadays, digital gift cards are the go-to option for companies looking to provide non-cash perks to their staff.
What special occasions should be recognized by employers?
The holiday season is of course a popular time to show appreciation to employees in the form of a gift card. Anytime someone at your company receives some sort of award - whether internal or external - that's another good reason to send a gift card someone's way. And when employees (or teams) go above and beyond the call of duty, what better way to make them feel recognized by surprising them with a gift card to their favorite brand.
Types of Gift Cards to Get for Your Employees
A gift card program is one of the best types of rewards programs to offer employees because of the flexibility. You can choose from "open loop" cards that can be used just like cash at any retailer or "closed loop" cards that are redeemed at a single store or company. Companies can choose to offer specific brands or give employees an option of choosing their favorite retailer.
Want your employees to have the ability to choose where they want to redeem a gift card? Try Runa today.
What brands does Runa have access to for digital gift cards?
Runa offers gift cards from more than seven hundred brands, including Apple, Amazon, Nike, Starbucks, and Uber, as well as many smaller niche retailers. When we look at our top gift cards, they tend to aggregate in common categories such as food delivery, books, streaming services, fashion, travel, and exercise.
Wondering if Runa offers any particular brand(s)? Talk to us and we'll let you know.
How much should an employer spend on a digital gift card for an employee?
While gift cards do have their pros and cons, overall, employees appreciate the opportunity to get gift cards as rewards. The dollar value of the employee gift card should be commensurate with the occasion. And keep in mind that a five dollar Starbucks gift card might not even buy a cup of coffee these days. This isn't to say you can't offer small non-cash awards, but anything under $20 might get a shrug or an eyeroll from some employees. But if you give someone $30 on UberEats for lunch, they're not going to complain.
The overall budget you have for digital gift cards will depend on the size of your company and the size of your workforce. But the average per-person incentive spend is $764, with an average spend per gift card equaling $120 as of 2020. The most common employee appreciation gift card values are - unsurprisingly - $25, $50, and $100.
How do you send digital gift cards to your global workforce?
One of the best aspects of eGift cards is that they can be used for employee recognition around the world. Runa makes it easy to send employee rewards across borders in an instant. Click here to get a demo and find out how.
How long are employee gift cards valid for?
Gift card recipients shouldn't have to worry about their gift certificates expiring too quickly. Fortunately, since eGift cards are delivered pretty much instantaneously and can typically be redeemed online, most employees should have no problems with gift card expiration dates.
With Runa, you can set your own expiration dates for gift cards you purchase. And if some employees don't redeem their gift cards before the expiration date, that money goes back into your pocket.
When do digital gift cards expire?
Federal and state statutes protect consumers with limitations on gift card expiration dates and inactivity fees. In most cases, employees don't have to worry too much about an expiration date or fee when they claim their gift card because they have some protection. Most employees are likely to use their cards quickly regardless. Runa automatically handles expiration regulations for different countries.
How do you recover any unclaimed rewards with Runa?
On occasion, an employee might not claim their gift card in time. With Runa, gift card purchases are never wasted. Our automated system automatically recovers unclaimed rewards, so you don't lose money on gift cards that go unspent.
How do you track redemptions and employee engagement of your digital gift cards?
As an employee rewards solution, Runa offers a robust dashboard that tracks rewards by employee, department, and brand. You can see which store gift cards are the most (and least) popular with your employees. This data will help you figure out which brands your employees actually care about.
Buying gift cards for employees using Runa
If you are looking for an easy way to set up an employee rewards program, Runa offers the best gift card management system around. Our employee rewards software allows you to easily send employee gifts globally with the click of the button. More economical than physical gift cards and more personal than cash, digital gift cards are the perfect way to make your employees happier and more productive.
Want to learn more about using Runa to send gift cards to your employees?
Contact us today for a demo - we'll be happy to show you exactly how it works.