Buying bulk Starbucks gift cards
If you're interested in using Starbucks gift cards as part of your company's incentive marketing or employee recognition programs, you will most likely be buying those cards in bulk.
Like the Amazon gift card, Starbucks remains one of the most popular gift cards for rewarding your customers and employees. A Starbucks gift card can be used to send a quick thank you to a survey participant, welcome a new member to your eCommerce business, share a coffee across your entire team when conducting a virtual meeting like an all-hands, etc.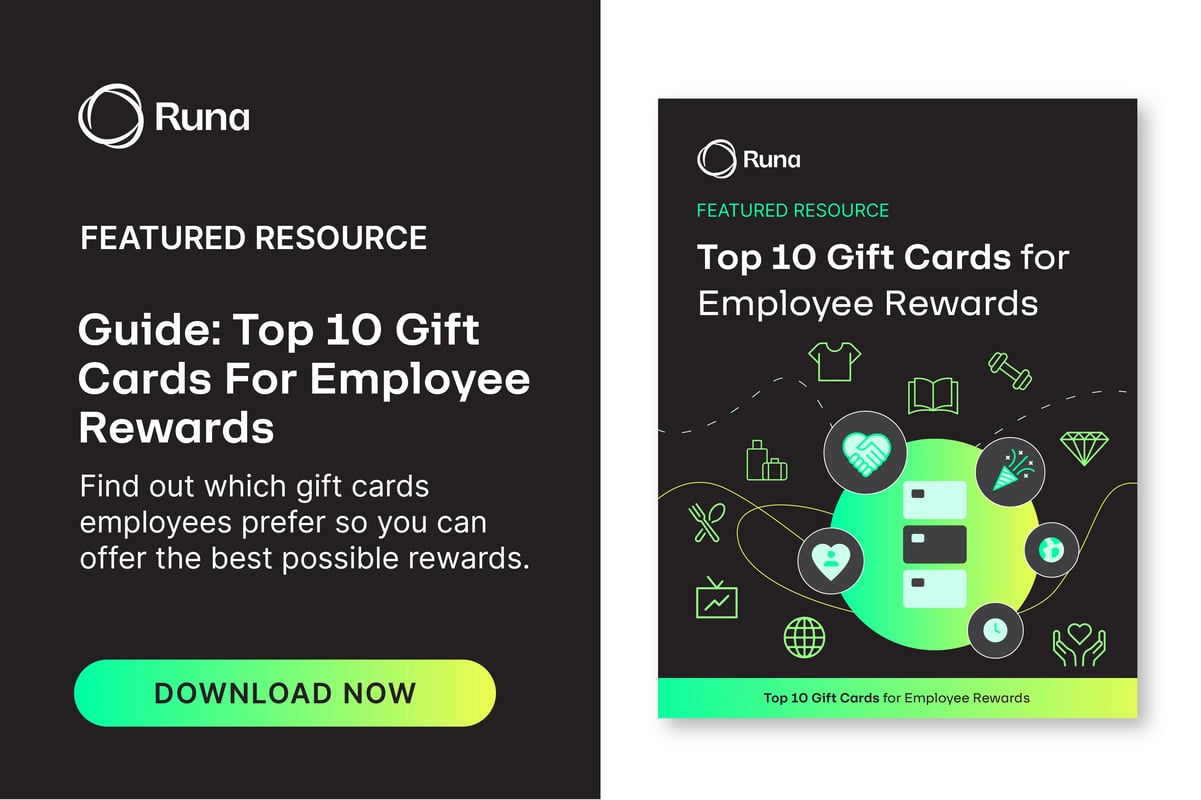 When sending a large amount of Starbucks gift cards, or sending a Starbucks card to leads or staff members regularly, buying bulk Starbucks gift cards is an effective way to reach your audience. Most everyone can enjoy the gift for a coffee, pastry, or even a full lunch on the house, at a location convenient to them.
As with any eGift card program, executing delivery at scale is critical. It can also be budget-intensive. For these reasons, buying bulk Starbucks gift cards directly through Starbucks may not be the most economical or impactful way of connecting with your recipients.
As always, it helps to ask yourself a few questions about your gifting campaign in order to clarify your needs:
How often are you sending a Starbucks card to your recipients?

How many gift cards do you intend to send during a single campaign?

How are your recipients most likely to receive their gift cards? (By physical card, QR code, Starbucks card eGift, or social post?)

What is the likelihood your recipients will use 100% of the Starbucks gift card balance?

How much customization would you like your gifting campaign to offer?

What kind of support will you need for sending your eGifts to recipients at scale?

How much financial reporting or data analysis is needed post-send?
The answers to these questions will help you understand whether using a gift card management platform - like Runa - could save you time and money while improving the outcomes of your campaigns.
---
Quick shameless plug: Runa makes it easy for companies to order Starbucks gift cards in bulk, while saving money (depending on volume).
Curious how it works? Start buying and sending gift cards in bulk instantly.
---
What are bulk Starbucks gift cards?
Over the last twenty years, Starbucks has become nearly synonymous with premium coffee. The company has grown from its first Seattle-based store to over 32,000 corporate-owned and licensed Starbucks stores throughout the globe. But while much of the business focus is on brick-and-mortar operations, the company has also driven market acceptance of gift cards through:
direct physical gift card sales

eGift card delivered via promotional emails

the Starbucks app (added directly to your Starbucks account)
For corporate customers, Starbucks offers the opportunity to send bulk Starbucks gift cards as part of your sales, marketing, retention, and engagement campaigns.
Through its B2B website, Starbucks allows clients to buy gift cards – either physical or digital – in bulk. The company also has options for a co-branded physical Starbucks card (with the Starbucks logo as well as your company logo featured) or by creating fully custom physical business gift cards within a short turnaround time (approximately two to three days for delivery).
How to buy Starbucks bulk gift cards
There are several ways to buy Starbucks cards for your campaigns:
Through the Starbucks B2B gift card website, online store, or app

By getting digital gift cards through the Starbucks website where codes are delivered in bulk to you for distribution

Through a retail outlet such as a grocery store, online merchant, or card kiosk (subject to store availability)

By using a digital gift card management service like Runa
It should be noted that it is no longer possible to buy physical Starbucks cards in small quantities on the website. Only bulk gift card orders (minimum of 15) are available if you want physical cards at scale. Though Starbucks provides a variety of ways to send the perfect gift to your desired recipients, there are advantages of using a gifting platform over a purchase directly from the company.
Advantages of using Runa over Starbucks to purchase gift cards at scale
While Starbucks makes it easy for business clients to purchase physical or digital gift cards in bulk, there are several key advantages to using Runa for your gift card campaign management.
Convenience
Using Runa to administer your bulk gift card programs allows you full visibility and ease of use through our dashboard. You can purchase Starbucks gift cards in bulk, fully customize the experience of each recipient, set expiration dates for time-limited offers, and understand how your recipients access and use their gift cards.
Reporting
When using a platform to handle your Starbucks card campaigns, you can take full advantage of the dashboard and its robust reporting and analysis features to make data-driven decisions about your future campaigns. You can see utilization rates, open rates, balance remaining, etc.
Flexibility
Using a gifting platform allows every member of your team to seamlessly send campaigns without the need to create expense reports, put large sums on a corporate card, or conduct manual approvals for new sending initiatives. Everything is handled directly through the platform so that multiple team members can take advantage of the power of gifting.
Recapture
One of the prime advantages of buying bulk Starbucks gift cards through the Runa platform is the ability to recapture the value of cards that expire. The platform can automatically recoups 100% of funds left on an issued card number after the expiration date. This means that any unused portion of an unclaimed gift card can be returned to your budget.
This feature is not available when purchasing directly from Starbucks.
Ready to send at scale with Runa?
If you're looking to take your gift card program to the next level, we're here to help.
Start with a free demo to see how Runa makes it easy to send gift cards at scale.