The best human capital management systems (HCMS) and employee recognition platforms make it simple and easy to reward employees. Whether organizations are recognizing moments that matter or incentivizing performance, they're looking for the best rewards from their HCMS platforms and creative ways to keep people engaged.
And some platforms have nailed employee recognition by integrating amazing rewards in a way that their customers love. We've rounded up the top HCMS and employee recognition platforms with the most innovative approaches to helping their customers reward and recognize their teams. We hope it's some inspiration for how you can integrate rewards into your platform with our reward API.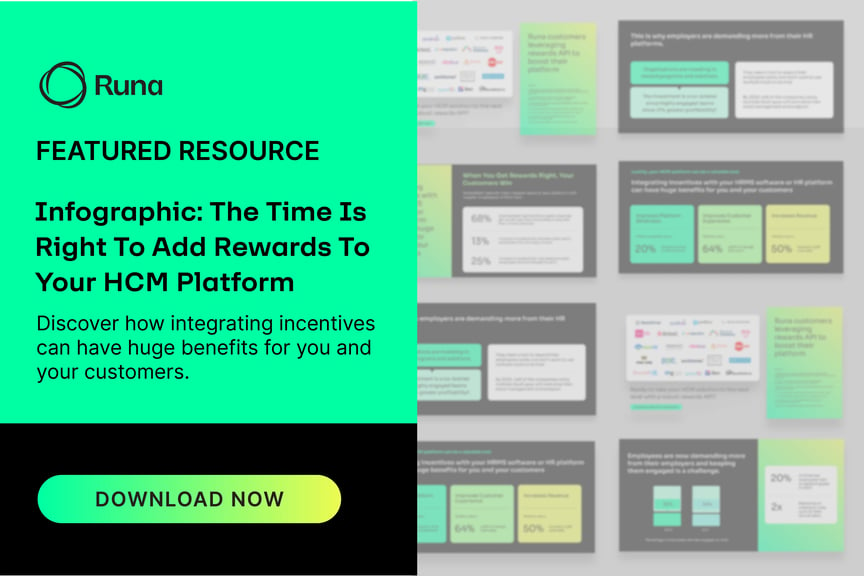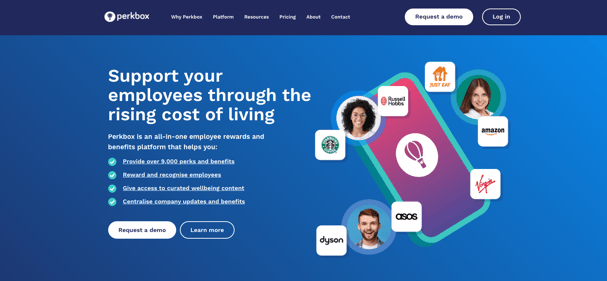 Perkbox created a global solution that helps international enterprises manage their rewards and recognition all in one place. Their goal is to help companies care for, connect with and celebrate their employees, no matter where they are in the world. Part of that is making sure that their solution works for global enterprises with international employees. Their carefully curated catalog of rewards gives recipients a variety of worldwide choices. That's a huge help for organizations, because it means they don't have to use multiple solutions, deal with local currencies or search for culturally relevant rewards. Runa helps power that with our global catalog.
Trusted by more than 8,000 global businesses, Perkbox helps keep employees happy, healthy and motivated from all around the world. Keeping their global customers in mind, Perkbox leveled up their platform by partnering with Runa to offer eGift cards.
With Runa's API-first technology, Perkbox was able to:
Increase gift card sales by 50%

Sell and deliver 1000s eGift cards

Save 1000s of operational hours monthly
PerkBox's superpower is offering a solution that reaches every corner of the world. Jemma Battison, Perkbox's Partnerships Executive says since "everyone is looking for something different [eGift cards] played a huge part in the success of [their] recognition service."
It's hard to satisfy global workforces across multiple generations. But, according to their 4.5 out of 5 star rating on G2 and Trustpilot, Perkbox has nailed it!
Read Perkbox's Case Study for even more insight on how adding rewards to your platform can help your customers save time, grow your revenue and improve customer satisfaction.

While we often think of rewards and recognition as a way to celebrate outstanding achievement, Nectar built a product that helps their customers make rewards and recognition a part of daily culture. They have a wide range of ways to recognize and reward people, from simple shoutouts to large rewards. And they integrated with a huge number of office tools, including Slack, Workday, Microsoft, Okta, Google Suite, Microsoft Teams, Gusto and more, to meet their users where they are and make that easy. By turning rewards into an everyday part of the business, they're prioritizing performance across the board and helping organizations recognize high performers in all their forms.
The result? Creating a culture people don't want to leave (hello employee retention!)
Nectar's unique rewards categories has something for everyone –
A direct Amazon integration

A robust catalog of gift cards

Branded company swag

Donations to charity

Custom rewards specific to each customer
With a 4.5 out of 5 star rating on G2, Nectar's proven to support great company culture.

Sodexo, the world's 19th biggest employer, focuses on serving the supply chain and business services industry. Sodexo's Employee Benefits and Staff Rewards & Recognition and their Sodexo Engage platform creates compelling employee experiences for customers in their niche. It's important to keep frontline employees engaged and happy and Sodexo has cornered the market. Their rewards and recognition services help their clients' employees feel engaged, motivated and cared for.
Runa supports Sodexo with a frictionless method of ordering e-vouchers through the comfort of a Sodexo-branded platform. With our API, Sodexo was able to:
Increase the average load value by 64%

Save 1000s of operational hours monthly

Offer 50+ new global brands to their customers
Read Sodexo's Case Study to learn about their success with integrating rewards.
Bonusly takes a unique approach to rewards and recognition by making both the giving and receiving of rewards available to everyone and gamifying the process. Rather than mandate that rewards and recognition flow from the top down, Bonusly gives everyone across the organization the ability to provide rewards. They built a points-based system where everyone has points to give. That means that rewards and recognition can flow in all directions, and their platform has nearly unlimited opportunities to help its users.
The platform infuses fun into their platform effortlessly. Love GIFs and emojis? Bonusly does to! It helps users express gratitude in their own way.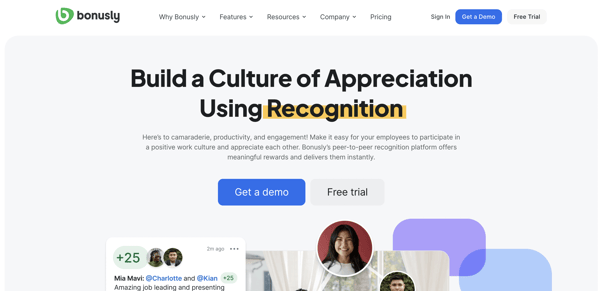 Everyone–from executives and managers to contractors and individual contributors– can collect points and trade them in for rewards they'll love. Bonusly offers a great catalog of gift cards, and their platform supports custom rewards that their users can create, such as lunch with the CEO or a sponsored industry membership. Their G2 ratings are 4.7 out of 5 shows more fun in the workplace in a win-win!
These are just a few examples of how you can carve a niche and level up your employee recognition platform with integrated rewards. Adding our rewards API will allow you to:
Share data and sync between modules to easily connect rewards to birthdays and work anniversaries

Connect rewards with key performance indicators (KPIs), goals and performance criteria modules

Keep customers engaged on your platform without disrupting their workflows

Create new revenue streams from rewards and increase customer retention
If your HR or HCMS platform isn't leveraging global, diverse rewards, it's time. Schedule a demo today for to learn more about our:
Unparalleled catalog
To seamlessly send value globally with access to 1,300+ brands in more than 30 countries and 18 currencies
Simple API integration
To integrate our powerful and developer-friendly API to automate your rewards and payouts.